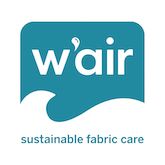 W'air Sustainable Fabric Care
Stand: B18
| Accessories
| Buggies, Pushchairs and Strollers
| Car Seats
| Technology
| Fourth Trimester
From clothing and car seats to sofas and soft toys, w'air is a versatile, handheld device specially designed to clean and care for your fabrics and the environment. How will you use yours?
w'air uses just cold water and a little detergent to remove stains, deep clean delicates or simply refresh fabrics or lightly worn clothes between washes. No more abrasive scrubbing or long soaks. No more costly trips to the dry cleaner. Fewer damaging wash cycles.
Using around 99% less water and 77% less detergent than conventional methods, its patented hydrodynamic technology creates a blast of water, air and detergent that actively collides with dirt, grime and everyday odours so you can keep the things you love looking newer for longer.
Some things will always need to go in the washing machine. For everything else #justwairit
Visit our website (www.justwairit.com) to find out more about our FREE 60-day trial