02 Feb 2023
MAM launches the first carbon neutral soother made of bio-renewable material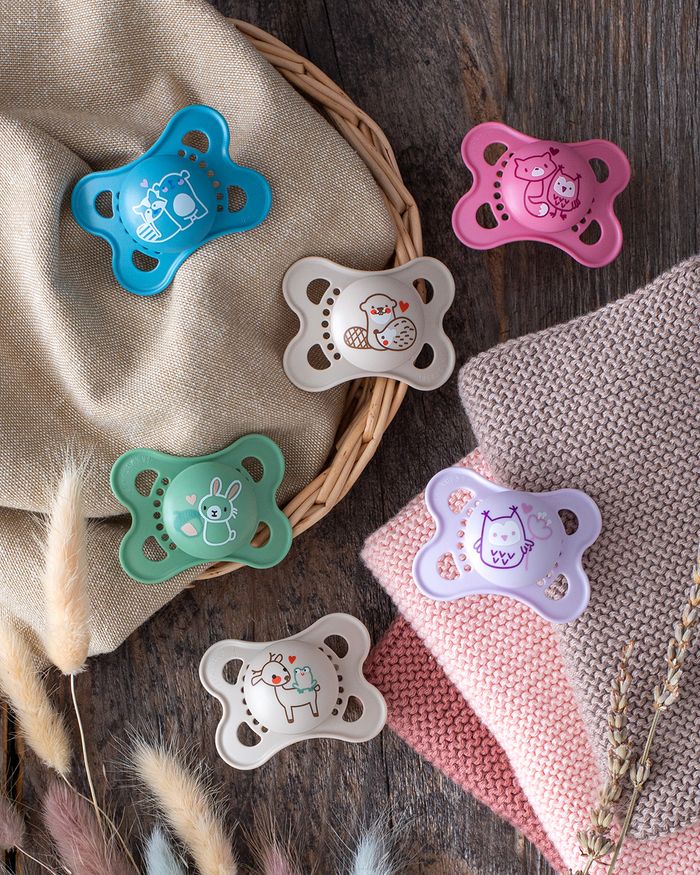 New milestone reached by MAM: Launch of first carbon neutral soother made of bio-renewable material
MAM is accelerating its climate action with the introduction of MAM Original PURE, its first carbon neutral soother range made of bio-renewable material. This ground-breaking, certified bio-renewable material significantly reduces the soother's carbon footprint. In addition, all unavoidable, remaining greenhouse gas emissions are offset with certified climate projects, resulting in MAM's first carbon neutral soother range.
The new material – now available in MAM's new Original PURE range – is a bio-renewable and bio-circular polypropylene that was selected for its safe, robust and durable properties that match the fossil-based PP already in use.
With the health and wellbeing of babies at its heart, over the last 45 years, MAM has used its medical and research expertise to develop and introduce natural, sustainable materials that do not compromise on meeting the highest quality standards possible and support for babies' development.
This announcement, alongside other initiatives already underway, is another step forward towards greater sustainability and a reduced carbon footprint for the business.
MAM Original PURE complements the existing, best-selling and well-loved MAM Original soother range of soothers.
Following almost a decade of intensive research, the business has now successfully implemented a sustainable product innovation using renewable raw material sources that are 100% traceable along the supply chain regarding environmental and social standards.
MAM Original PURE's soother shields and knobs are made of bio-circular, bio-renewable raw materials that have ISCC PLUS (International Sustainability and Carbon Certificate) credentials and offer the equivalent material safety and product characteristics of fossil PP. (1)
MAM Original PURE's new packaging: Carbon neutral packaging makes its debut
MAM has pledged to reduce its carbon footprint for all consumer packaging by 40% until 2025 and new MAM Original PURE's packaging takes the company's first steps in this direction.
The carton parts of the MAM Original Pure packaging are FSC certified, sourced from sustainable forestry, and the small plastic part that is left is made of recycled PET. MAM also offsets all unavoidable greenhouse gas emissions of the packaging to make it carbon neutral.
Moreover, the products are sold in a unique steriliser box which is similarly made of ISCC+ certified bio-circular materials which further results in a reduction of emissions compared to the fossil-based PP steriliser box.
The steriliser box is not just a product packaging design; it serves a purpose to sterilise the product. Most of the carbon emissions in a soother's product lifecycle occurs when cleaning and sterilising a soother at home. (2) Sterilising the soother in the MAM steriliser box with a microwave saves up to 77% of CO2 emissions (3) compared to other sterilising methods (e.g. cooking on stove top).
Parents can use MAM's CO2 calculator to see how much energy and CO2 they can save: https://www.mambaby.com/why-mam/mam-sustainability/co2-calculator/
The MAM Original Pure range: Great design features and playful product designs to suit babies aged 0-16+ months
The range comprises fifty-three products in total across four different age groups: 0-2 months, 2-6 months, 6-16 months and 16+ months.
MAM Original Pure retains all the popular features of the MAM Original soother range including its MAM SkinSoft™ Silicone teat design that feels familiar to and is easily accepted by 94% of babies.
The flat, symmetrical shape is another retained feature for MAM Original Pure, ensuring the teat always fits perfectly in baby's mouth. This has been designed in association with dentists to support healthy dental development.
MAM: An ongoing commitment to sustainability, today and for our future
Sustainability and responsible action have been part of MAM's DNA for the last 45 years. The business was the first in its industry to publish a sustainability report according to GRI (Global Reporting Initiative) back in 2011, which since 2017 has also been featuring MAM's contribution to the SDGs (Sustainable Development Goals by the United Nations).
MAM takes its responsibility for the reduction of greenhouse gases seriously by constantly optimising its plants and production processes. Efforts focus on the continuous improvement of energy efficiency, reduction of CO2 emissions, use of renewable energies and careful use of resources. Moreover, we are working together with Climate Partner (www.climatepartner.com) to support with the Gold Standard certified carbon-offsetting projects in various countries that are also linked to the health and wellbeing of babies.
For all details including MAM's sustainability report, visit https://www.mambaby.com/why-mam/mam-sustainability.
---
(1) This plastic is 100% linked to renewable raw materials. Compliant with the mass balance approach and certified by ISCC PLUS.
(2) Product carbon footprint study of MAM soothers by denkstatt GmbH, March 2017
(3) Product carbon footprint study of MAM soothers by denkstatt GmbH, March 2017