28 Mar 2023
The Baby Show Loves Sustainable Products & Brands at Manchester Central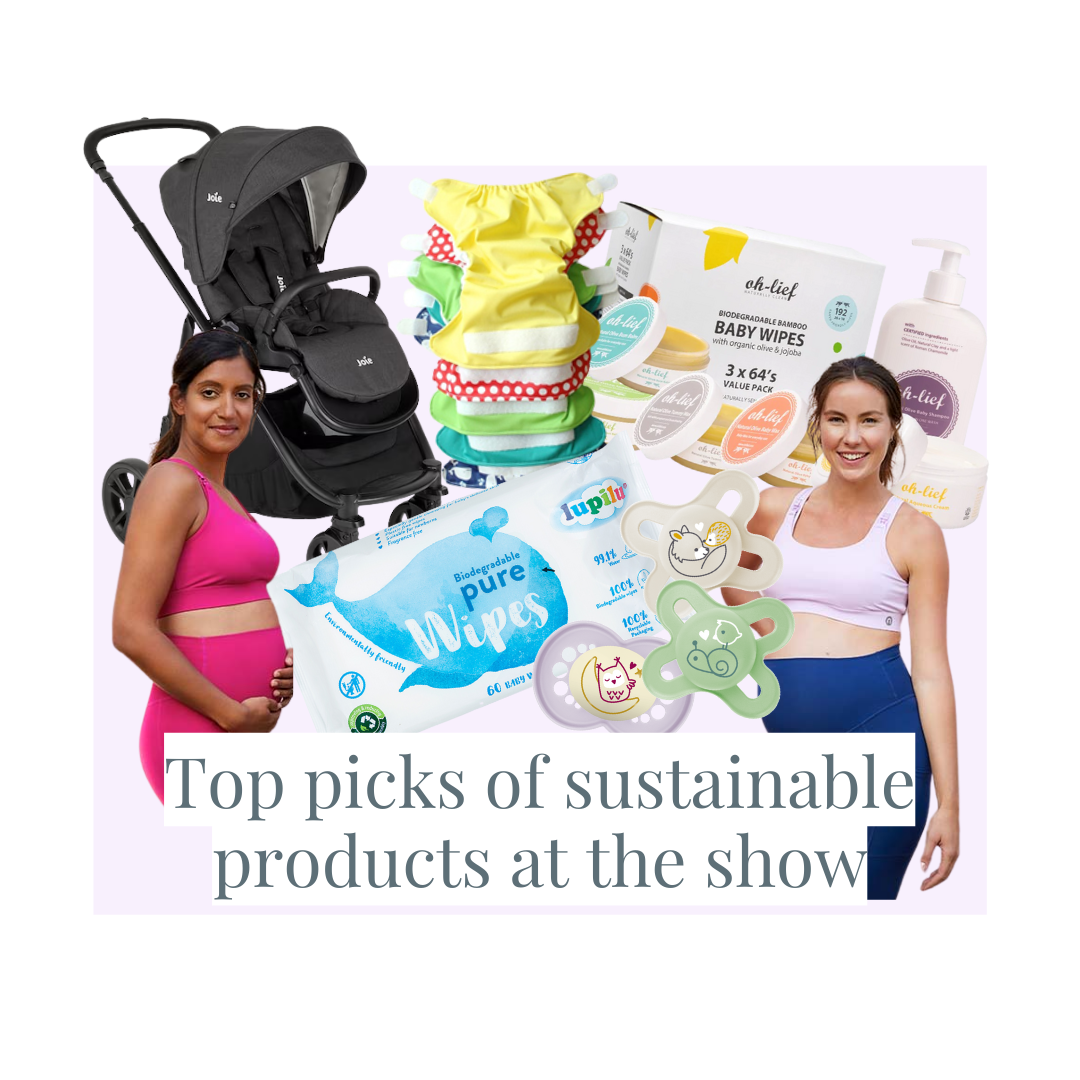 At The Baby Show, we're seeing more sustainable choices of baby products than ever, showing that you can care for your baby and the planet simultaneously.
Here's our pick of some of the best sustainable products for eco-conscious parents you can find at The Baby Show with Lidl GB, Manchester Central.
MAM Original PURE Soother (Stand G11)
MAM's first carbon-neutral soother made from bio-renewable materials is ground-breaking and a first in the UK. The soother button, shield and steriliser box are all made from ISCC PLUS certified Circular PP, which guarantees the safety and superior product quality you would expect from a MAM product, whilst being kinder to the environment, including SkinSoft™ Silicone teat which is easily accepted by 94%* of babies, and the flat, symmetrical shape designed in association with dentists to support healthy dental development. Packed in a handy self-sterilising box, these soothers can be sterilised in just 3 minutes in the microwave. Most of the carbon emissions in a soother's product lifecycle occur when cleaning and sterilising a soother at home. Sterilising the soother in the MAM steriliser box with a microwave saves up to 77% of CO2 emissions compared to other sterilising methods (e.g. cooking on the stove top).
MAM also has a great range of anti-colic glass bottles offering a green option for parents using bottles.
Joie Cycle Collection (Stand The Baby Show Café)
The brand new Cycle Collection uses the same metal components as other Joie products, so you can rest assured they are just as safe and long-lasting, but the fabric is made from recycled water bottles. As well as helping to reduce plastic waste, these materials also use fewer resources during production than virgin materials do – and there is no compromise on quality.
Joie is taking this discarded plastic debris flowing into the oceans every year, shredding it into flakes which are then melted and spun into super soft thread which are then knitted into a high-quality durable fabric that's comfortable and safe for baby.
The cycle range will consist of the Joie versatraxTM, mytraxTM pro, i-SnugTM 2, i-SpinTM 360, i-TrilloTM and rambleTM XL.
The Nappy Den (Stand D81)
Reusable nappies have come a long way since the days of terries nappies. These days, reusables are available for every budget in a huge range of designs, available from birth to potty. Brands include Little Lovebum, Bells Bumz, Little Lamb and Bear Bott.
The Tot Loft (Stand B52)
The Tot Loft is a peer-to-peer community, with a mission to globally transform the way baby items are used. There are already so many baby items in circulation, whether it be buggies, cots, bicycles, or tech, so The Tot Loft encourages you to share items within a trustworthy community. By using rental platforms, you avoid adding more items to circulation. And hey, you could make some money too!
Oh-Lief Natural Products (Stand D41)
Based in the UK and founded in 2010, Oh-Lief creates handmade COSMOS Soil Association Certified Natural & Organic Skincare and Sun care products for babies, children and their families that are kind to the most delicate skin and the environment. Their products do not contain any harsh chemicals, artificial fragrances, petroleum, parabens, artificial colours or nut oils. Moreover, every purchase made contributes to the Greenpop organisation, together they plant indigenous trees every month to restore ecosystems and empower environmental stewards through forest restoration, urban greening, food gardening, and environmental awareness projects.
Lidl Lupilu (Stand B20)
Lupilu biodegradable baby wipes are award-winning and paediatrician approved! Specially formulated to be mild and gentle on your baby's sensitive skin from birth. They're perfume and alcohol-free and made from 100% biodegradable plant-based fibres.
What makes biodegradable baby wipes different? For starters, they're made with natural ingredients that are gentle on sensitive skin. Many eco-friendly baby wipes are also free of harmful chemicals like parabens, sulphates, and phthalates. Plus, they come in packaging that's from recycled materials, so you can feel good about using them without harming the planet.
Natal Active (Stand C66)
With everything designed to be worn for both pregnancy and breastfeeding, Natal Active's clothes are designed for longevity with sustainability in mind (rather than just for the short period you have a bump). Also, to help avoid being part of the 350,000 tonnes of clothing that ends up in landfill each year, they have launched a pre-loved scheme, whereby we buy back our customers' preloved Natal Active clothing and resell, recycle or repurpose it - with any funds raised going to the charity Kicks Count - thereby having a doubly positive impact.
What makes a product or brand sustainable?
Everyone has different benchmarks when it comes to sustainability but here's a guide to some of the common credentials to look out for:
Materials: Look for products that use sustainable materials – either recycled materials, organic materials, biodegradable materials that don't contribute to waste at landfills, or materials that are durable and long-lasting so they can be used for years to come.
Supply chain & labour practices: Look at products that reduce carbon emissions, manufacturing that reduces the impact on the environment, locally sourced materials and energy-efficient manufacturing.
Green business practices: Initiatives to offset carbon emissions such as planting trees. Reducing packaging and waste. Products that do not contain harmful chemicals or bad additives for your child and the planet. Manufacturing to protect vital essential wildlife habitats and the environment for years to come.
Community & charitable giving: Companies that support and give back to their communities.
B Corp Certificate: Certified B Corporations, or B Corps, are companies verified by B Lab to meet high standards of social and environmental performance, transparency and accountability.
Book your tickets to The Baby Show with Lidl GB at Manchester Central, 14-16 April 2023, to try, compare and buy sustainable brands and products all in one place!
You can find Ticket Packages here https://www.thebabyshow.co.uk/manchester/tickets