11 Apr 2023
5 Baby First Aid Items to Have at Home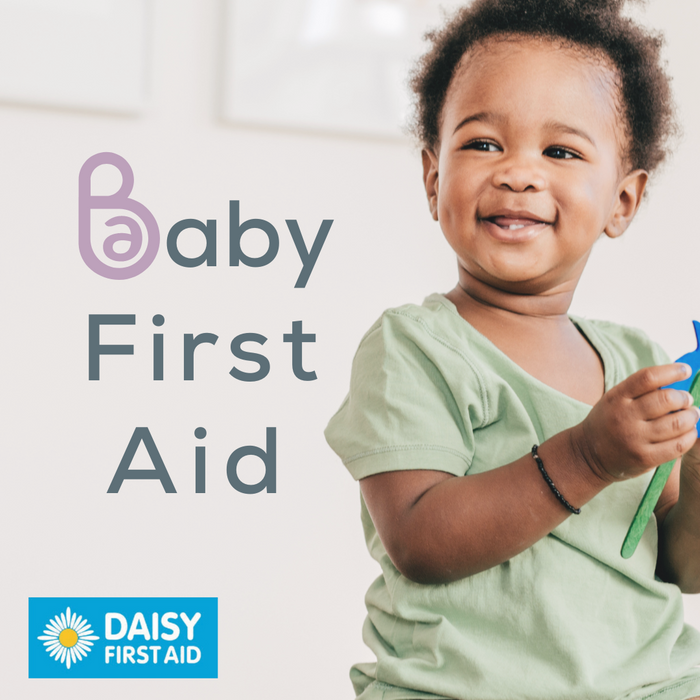 I'm a Daisy First Aid expert. I'm also a mum! Here are my top 5 items to have at home alongside your Daisy First Aid kit.
Digital Thermometer
The NHS recommends under arm thermometers for children under 5, as these will give the most accurate reading. It's a great idea to take your child's temperature when they're well so you know what's normal for them.
Liquid Antihistamine
Liquid antihistamine isn't recommended for children under 12 months but for slightly older children it can be very useful to have around the home and to take with you on days out. It's great for wasp or bee stings, nettle stings, insect bites, mild allergic reactions and eczema (it can help ease the itching at night).
Ice Pack
Our Daisy First Aid kits contain an instant cold compress, which is great for those head bumps when you're out and about. A top tip for when you're at home is to pop a bag of marshallows into a plastic food bag and freeze that for an instant ice pack. This will be softer on your little one's head than a bag of peas. Remember, never put ice directly on the skin; always wrap it in a tea towel before putting the cold compress on your little one's head.
Liquid Paracetamol
Don't forget that you can give your little one pain relief if they hurt themselves in an accident. It's not just for when they have a fever and are unwell. I always make sure we have liquid Calpol on hand at home.
A Red Flannel
When a child hurts themselves it can be scary for them to see lots of blood. Having something red or dark to help mop up the blood can help disguise the severity of those more nasty cuts and scrapes. Just make sure it's kept nice and clean.
Daisy First Aid Kits
Daisy First Aid kits are handy little first aid kits that are the perfect addition to your changing bag or car. They contain over 70 items including fun plasters, bravery stickers, an instant ice pack and so much more.
Head to www.daisyfirstaid.com and pop in your postcode to contact your local trainer and get yours today!
Daisy First Aid founder, Jenni Dunman will be speaking throughout the weekend on the Live Talks Stage at the Baby Show with Lidl GB at Manchester Central on all things Baby First Aid. All talks are free to attend with an admission ticket.
Next Live Stage Talks by Jenni Dunman
We're sorry, but we couldn't find any results that match your search criteria. Please try again with different keywords or filters.
Learn how to recognise and treat a choking baby or child. How to recognise and treat a febrile seizure. How to avoid accidents in the home
Learn how to recognise and treat a choking baby or child. How to recognise and treat a febrile seizure. How to avoid accidents in the home
Learn how to recognise and treat a choking baby or child. How to recognise and treat a febrile seizure. How to avoid accidents in the home
Learn how to recognise and treat a choking baby or child. How to recognise and treat a febrile seizure. How to avoid accidents in the home
Learn how to recognise and treat a choking baby or child. How to recognise and treat a febrile seizure. How to avoid accidents in the home