18 May 2023
The Baby Show with Lidl GB ExCeL London Earns Finalist Spot for Best Consumer Show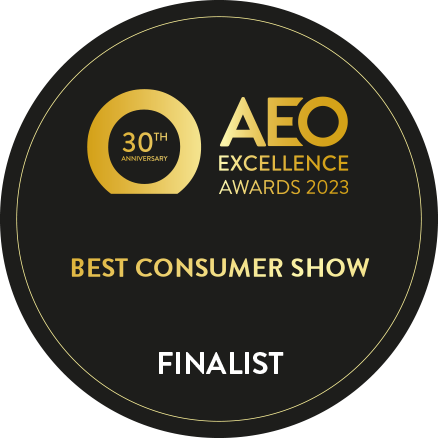 The Baby Show with Lidl GB is thrilled to announce that its recent event at ExCeL London has been selected as a finalist in the esteemed AEO Excellence Awards' Best Consumer Show category.
As the UK's favorite pregnancy and baby event, The Baby Show with Lidl GB series of events attracts over 80,000 attendees each year. Showcasing a wide array of popular baby brands, this comprehensive live event offers expectant parents a convenient one-stop-shop experience for all their newborn essentials under one roof. Moreover, it provides invaluable expert advice from top parenting and baby experts, covering topics ranging from sleep and feeding to birth, baby first aid, and infant learning.
In 2023, The Baby Show has expanded its reach by hosting four live consumer events across different locations: ExCeL London in March, The NEC Birmingham in May, Olympia London in October, and the newly added Manchester Central in April. The ExCeL London 2023 event witnessed a substantial increase in attendance, with an 11% rise compared to the previous year. The Saturday of the show marked the busiest day in four years, with many participating brands reporting record-breaking sales and product sell-outs.
Renowned industry-leading brands such as iCandy, UPPAbaby, Joie, Tommee Tippee, MAM, Mamas & Papas, Cosatto, Obaby, Nuna, Chicco, BabyBjörn, Nala's Baby, Daisy First Aid, MOMCOZY, Tutti Bambini, Silver Cross, and Cybex regularly feature in The Baby Show. Additionally, the event supports emerging and boutique brands through its "New Kids on the Block" section. Notably, one of the show's most popular attractions is the Buggy Testing Track, a unique feature allowing expectant parents to test various strollers on different terrains, ensuring they make the perfect choice for their needs.
Mallory Reynolds-Trout, Show Manager at The Baby Show says: "We are thrilled that our ExCeL Show has been named one of the very best consumer shows in the UK and I am extremely proud of the hard work of my team. It's difficult to know what to buy when you're expecting a baby and we want to alleviate parents' fears and provide a one-stop-shop for all their shopping needs. The baby industry is a non-stop, ever-changing sector with new and emerging brands and innovations launching all the time which the show is proud to showcase and celebrate."
The AEO Excellence Awards will take place on 16th June at Grosvenor House, Park Lane, London.