14 Apr 2022
Carrot Cake Hot Cross Buns Recipe by Charlotte Stirling-Reed from SR Nutrition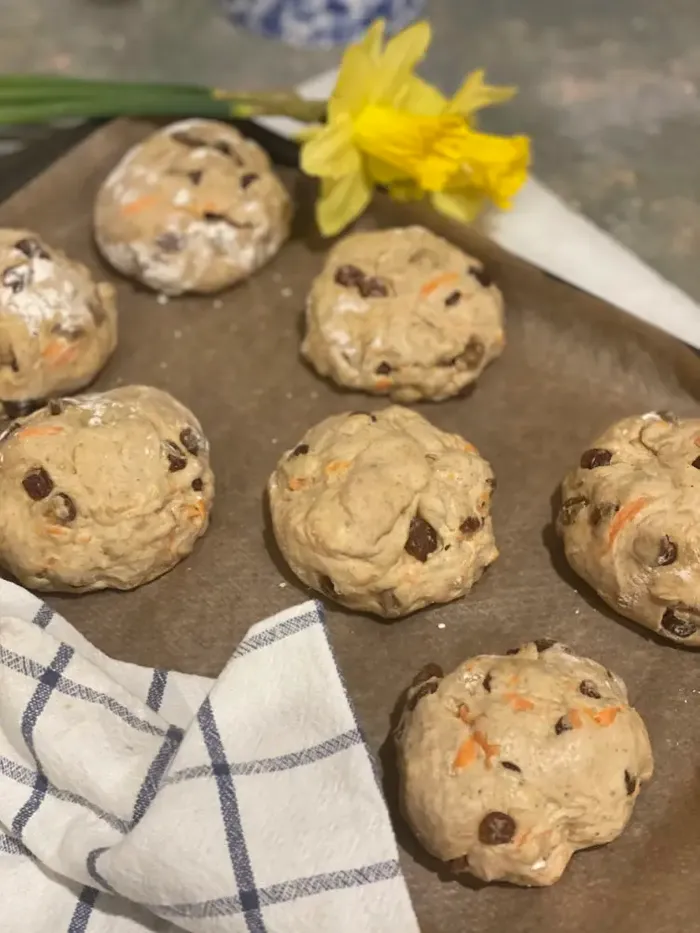 Baby and Child Nutritionist, and guest speaker at our LIVE Talks stage, Charlotte Stirling-Reed from SR Nutrition shared with us her yummy Carrot Cake Hot Cross Buns Recipe for Easter and we're very excited to try them!'
These carrot cake versions are a delicious twist on the traditional recipe says Charlotte, and they're dairy-free too. Babies and toddlers are bound to love these carrot cake hot cross buns ' as are the rest of the family!
This recipe is great to get your little ones involved with the prep work too ' just be prepared for things to get a little messy!!
I really hope you love this recipe as much as I do!
'
Ingredients:
250ml plant-based milk alternative
50g plant-based spread
500g strong bread flour
50ml orange juice
7g sachet fast-action dried yeast
1.5 teaspoon ground cinnamon
' teaspoon ground nutmeg
Flour for dusting
2 medium carrots, peeled and grated (dab off excess moisture if you can using kitchen roll)
200g raisins or sultanas
'
Method:
In a small saucepan, warm the milk and then add the fat spread. Once the fat spread has melted, turn off the heat and leave it to cool slightly.
Add the flour, yeast, and spices to a large bowl.
When the milk has cooled to lukewarm, make a well in the centre of the flour mixture, then pour in the warm milk mixture along with the orange juice.
Mix well with a wooden spoon, then use your hands to bring everything together into a sticky dough. Now add the carrots (that you have peeled & grated) and all of the raisins. Combine into the dough. Tip: If your mixture seems too dry and is not coming together, add more milk gradually. Or if your mixture seems to wet, then add some flour gradually until you can form a dough.
On a lightly floured work surface knead the dough until it's smooth, about 5 minutes by hand (or you can use a or in a stand mixer with a dough hook if you have one)
Lightly dust a bowl with flour and add the dough. Cover the bowl with a tea towel and leave to rise in a warm place until doubled in size (around 1-1 ' hours).
Heat the oven to 200C/400F and line 2 baking trays with baking parchment.
Divide the dough into 12 equal-sized pieces and shape into small round buns. Place them onto baking trays (leave space for them to expand). Leave to rise again until doubled in size (approx 1 hour).
'Use a knife to slice a cross in each bun
Bake for 20 mins or until golden brown then allow to cool on a wire rack.
Optional: If you want to do a traditional white cross, before baking, mix together 70g flour with 1 tbsp of water gradually to create a thick, pipeable paste. Spoon into a piping bag with a small round nozzle attached to it and pipe crosses on the buns.
'
Watch Charlotte's video by @CW.dietitian on how to make Carrot Cake Hot Cross Buns!

'
'
'