03 Feb 2023
5 Tips on Choosing the Right Baby Carrier, Sling or Wrap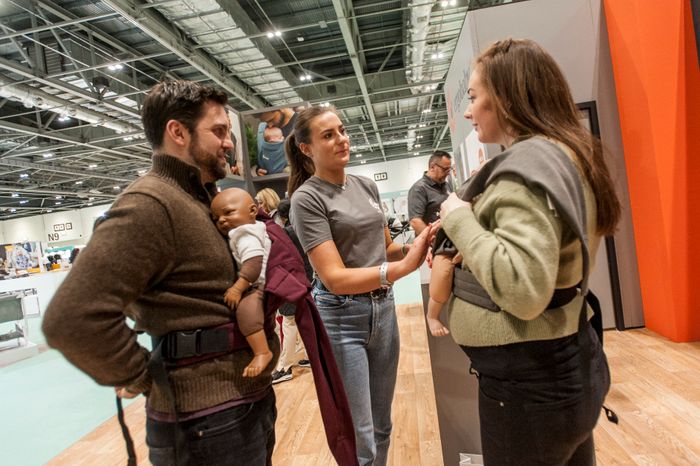 ---
Baby carriers are undoubtedly a wonderful invention, and there is a wide variety of slings on offer in the market today. Each baby sling or carrier will have advantages and disadvantages, so look for ones that are machine washable or easy to wipe down, comfortable to wear; and are versatile.
For example, some have thickly padded shoulder straps, other can be worn on the back, front and side of the body. So how do you choose the right baby carrier for you and your baby?
---
There are many variations, but here are five important considerations to look out for when purchasing a baby sling or carrier:
1. Does it correctly support the child's neck and back?
When the baby is newborn they can't support the weight of their own head, so if you want to transport the baby in a sling straight away, it is essential that his neck and head will be adequately bolstered.
2. How many positions does the baby sling allow?
For example, can the baby be worn on the front, back and side, and can he be carried both vertically and horizontally, or is only one position available? You want your baby to be an extension of your own weight rather than a heavy lump dangling off you!
3. Can the baby be put into all carrying positions by the wearer?
If you're setting out on your own, how easy will it be for you to strap on the baby carrier yourself? Will you need the help of another person to maneuver the baby and carrier into position? Can you set your own carry positions that are comfortable for you?
4. How long will the baby carrier last?
In other words, will the baby pouch be convenient and useful for toddlerhood as well as when he is newborn? If you want to carry on using the carrier or sling once baby is a few months old, then plan ahead for a carrier that will carry a heavier child.
5. Is the baby sling suitable for the father too?
Don't forget dad when choosing the right sling or carrier. A baby sling is an ideal way for father and baby to bond, feel more together, and for him to take responsibility for the baby on his own.
If you would like dad to get more involved and share the delights of carrying the baby, consult him on the style, shape and colour of the baby sling. Men can be particular about what they wear too!
---
At The Baby Show you can browse the stalls, try out different products and ask the experts about any queries you might have about baby slings and carriers.
Eight common questions are covered below:
---
Q1. What types of baby carriers are available?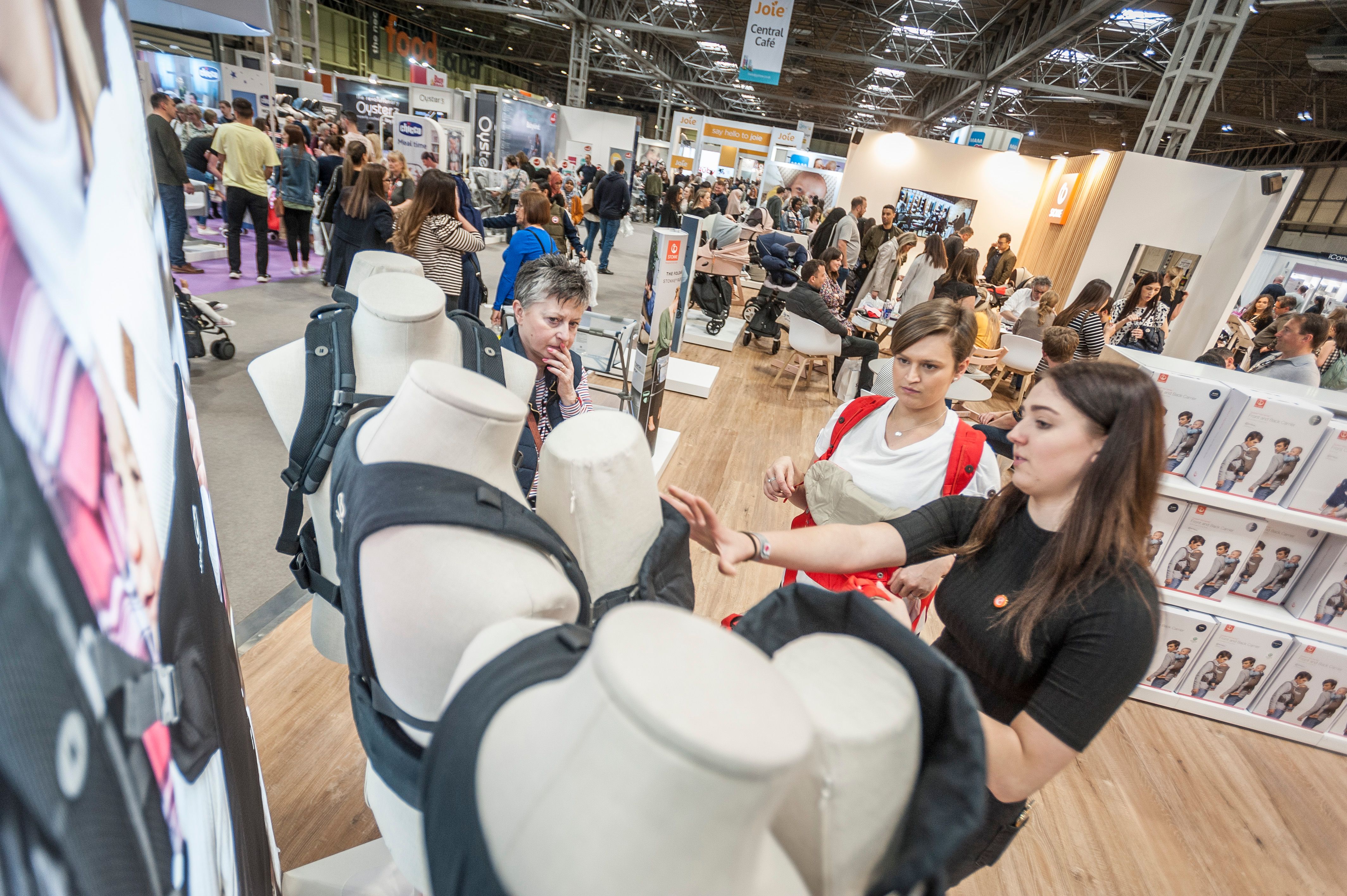 There are several types of carriers available, including slings, stretchy wrap, baby backpack carriers, and structured ergonomic carriers.
Sling carriers are the most common for newborns, as they provide a comfortable snug natural position for your baby.
Wrap carriers secure the baby to you with strong fabric ties and offer an ergonomic carry ideal for larger babies or toddlers.
Backpack-style carriers have adjustable padded straps and seat pads to secure them firmly against your body while providing multiple carrying positions.
Structured carriers are also popular, often offering a front facing or hip facing option that allow you to easily switch between carrying positions as needed.
---
Q2. How do I know which baby carrier size to choose?
The size of the baby carrier to choose depends on factors such as your body type and the age and size of the baby you plan to carry.
It is important to measure yourself, either by having someone else make measurements or using a cloth measuring tape.
Be sure to measure your torso length from the shoulders to about an inch above your hips for an accurate size selection.
Additionally, consult with the manufacturer's guidelines for age and weight ranges so as to ensure safe use of the carrier for you and your child.
---
Q3. Can I use a baby carrier with an infant?
Yes, you can use a baby carrier with an infant, as long as the infant has strong head, neck, and torso control.
It is important to make sure the baby's spine is in a neutral position - supported and aligned in the carrier for safety and comfort before placing them into the carrier.
Check with your midwife first to make sure your infant is mature enough for baby wearing.
---
Q4. Is it safe to wear a baby in a carrier?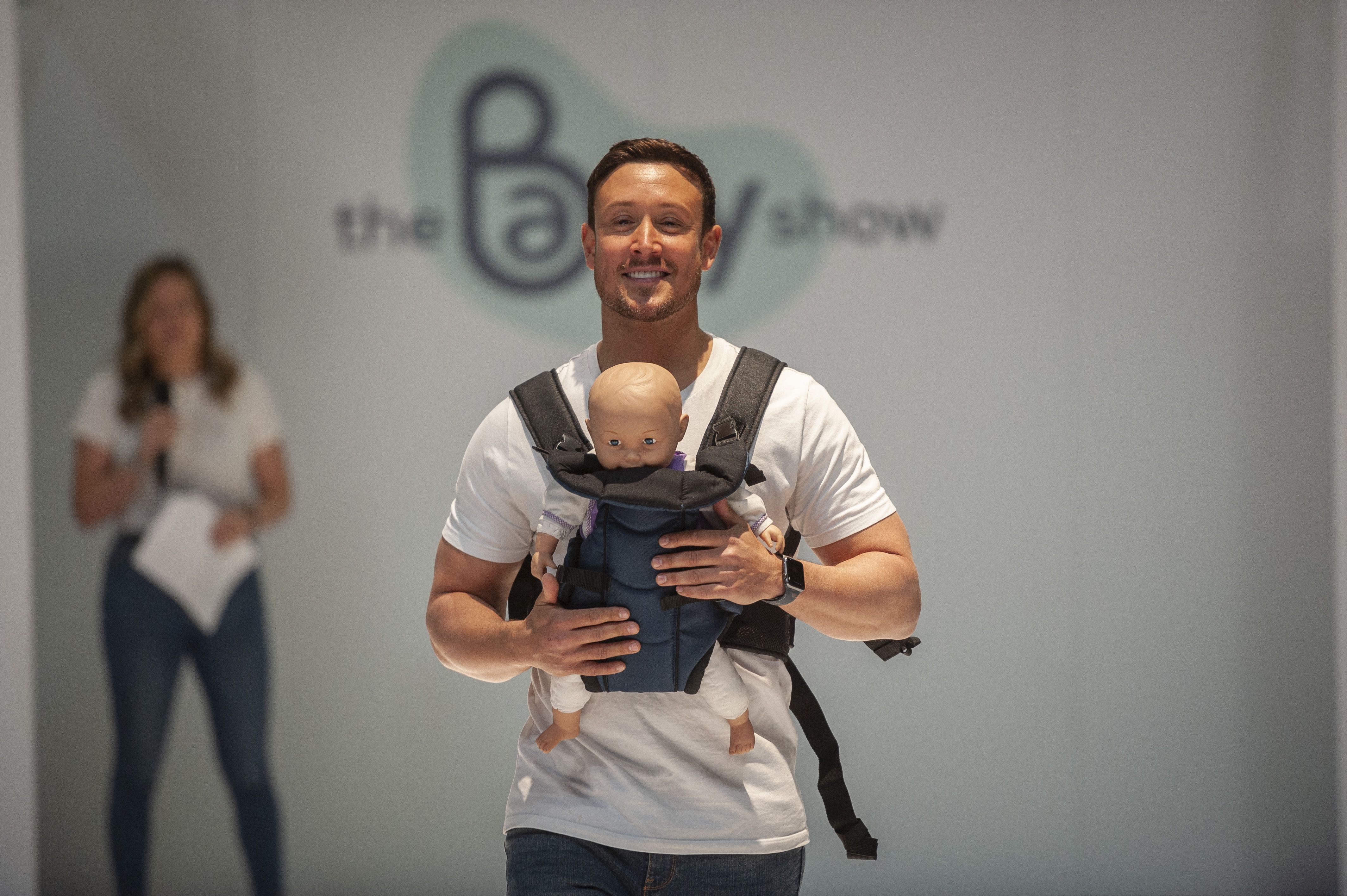 Yes, wearing a baby in a carrier is generally considered to be safe.
However, you should ensure that the carrier is of good quality, fits comfortably and securely on the parent's body and has been properly adjusted for your individual baby.
Make sure that you check the manufacturer's instructions as well as any relevant safety guidelines before using a baby carrier.
For more information see ROSPAs article: Are baby slings safe for your baby?
---
Q5. Can I share my baby carrier with someone else?
No, it is not recommended that you share your carrier with someone else.
Baby safety is paramount, and for that reason, it is generally advised to not share one between multiple caregivers because each person does not know the nuances of how to use it properly and safely.
It is best to invest in more than one carrier so the parent can rotate them if needed.
---
Q6. Do I need to remove the baby sling while sleeping?
Yes, it is essential to remove the baby sling while sleeping as there is a risk of suffocation/overheating due to the restricted airflow in the sling.
If you are co-sleeping with your baby or using a bassinet, you must make sure that your baby does not become trapped in the fabric or become wedged in between you and another surface.
---
Q7. Are baby slings safe and secure?
Baby slings are generally safe and secure when used correctly. It is important to make sure that your baby is properly positioned in the sling, or even better - follow the instructions provided by the manufacturer.
Also, it is essential to keep an eye on your little one as he/she may become overheated in a sling made from synthetic material.
As long as you take proper precautions and use common sense, baby slings offer great convenience and security for both parents and little ones.
For more information on baby safety see the NHS website on baby & toddler safety.
---
Q8. What's the difference between a baby sling and wrap?
The main difference between a baby sling and wrap is how the baby is secured.
Baby slings are typically rectangular pieces of fabric with rings at the top, while wraps are long pieces of fabric that you wrap around your body in various ways to secure and support the baby.
Baby slings offer more convenience due to their quick setup, while wraps can be adjusted precisely to fit the baby's size and are also widely known for their support.
Additionally, many baby wraps come with pockets or pouches to keep items within reach while on the move.
---
We could keep on going, but the very best way to find the best carrier, sling or wrap for you and your baby is to come to The Baby Show, where the UK's largest range will be on show in one place; you will be able to try on a range of carriers and slings and speak to the experts.
Click here to see the many other baby products on show too.
---