12 Dec 2021
Christmas Crafting Edition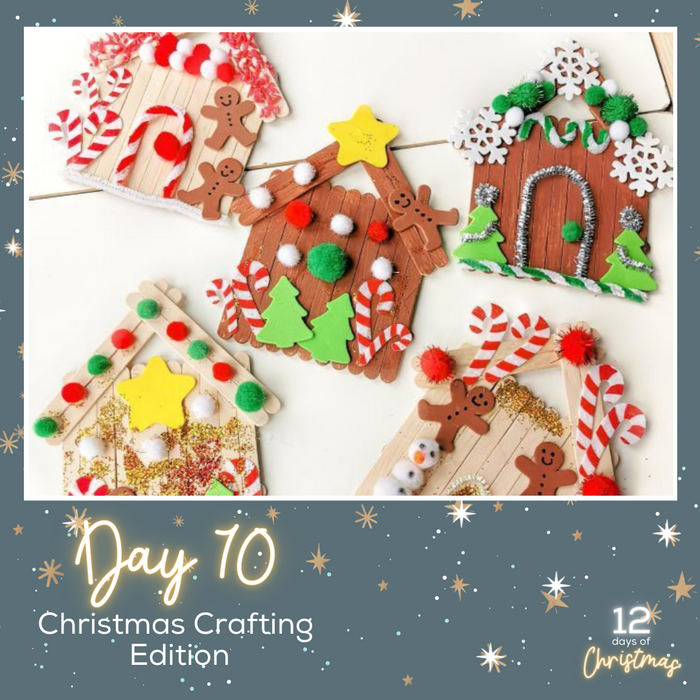 Christmas baby crafting can be as simple as some paint on their little fingers and toes or a salt dough keepsake. Finding the perfect Christmas tree ornament can be a challenge and you end up spending a fortune on something that only comes out of storage once a year. We have found some easy do-it-yourself tricks to save some extra pennies this year ' which will no doubt probably be needed for nappies!
Gingerbread House Christmas Decorations by @feedingarcher
This fun craft activity is a great way to get your children of all ages involved! They can decorate one for your tree, or make a beautiful handmade gift for a family member!
What you need
Lollypop sticks
Hot glue
Brown paint
Pompoms
Stickers
Pipe cleaners
PVA/clear glue
Glitter
The bit for a grown-up
Take 11 lollypop sticks lied up and then using hot glue stick them together. Then take a further 2 sticks, glue them together and create a roof (p.s. you can paint some of your houses a darker brown to give that real gingerbread look!)
Now the fun part' Fill a tray full of festive decorations, and let the children's creativity take over! It's great fun watching the little ones get messy, gluing on Pompoms, sprinkling glitter and adding candy cane stickers.
Once the decorations are dry, its time to display your beautiful works of art on your Christmas tree! And why not make it a tradition and make new one every year?
'
'
Handprint decorations'with @Bekkahamy
There are plenty of paint ideas out there, that are easy to make whilst your little one is napping. With the handprint paint method, you will be able to create many different Christmas themed ideas including trees, red robins and mistletoe for heartfelt crafts.
All you will need is non-toxic'paint or washable ink pad, to print your little one's hand, food or fingerprint with. Once dry, illustrate over these prints for character Christmas cards or to simply frame and gift to family.'
'
Outline Wreath'with'@bestideasforkids
This is a really easy and inexpensive DIY decoration that can be made year after year and even gifted to grandparents to hang proudly in their home this Christmas. Simply trace your tiny tot's little hands onto the coloured card and layer these around the paper plate base to make the wreath. We know babies and toddlers are easily distracted and don't sit still for long. Top tip: Try tracing one hand or foot and then you can use this as a hand template!
What you need
Paper plate for the base
6 pages of coloured green card in different shades
Red card or red stickers/ gems
PVA/clear glue
Red ribbon
Scissors
Hole punch
The bit for a grown-up'
Cut out a paper plate for the wreath base using scissors. Trace around little hands, layer the handprints onto the base and stick down with glue. Use the hole punch to create a method to hang up your wreath, with the red ribbon. Add red gems, stickers or paint for a pop of berry red!
'
Post a story on Instagram and remember to tag us @thebabyshow so we can see your creations!'Happy crafting!'