05 Dec 2021
Christmas Safety Edition with Daisy First Aid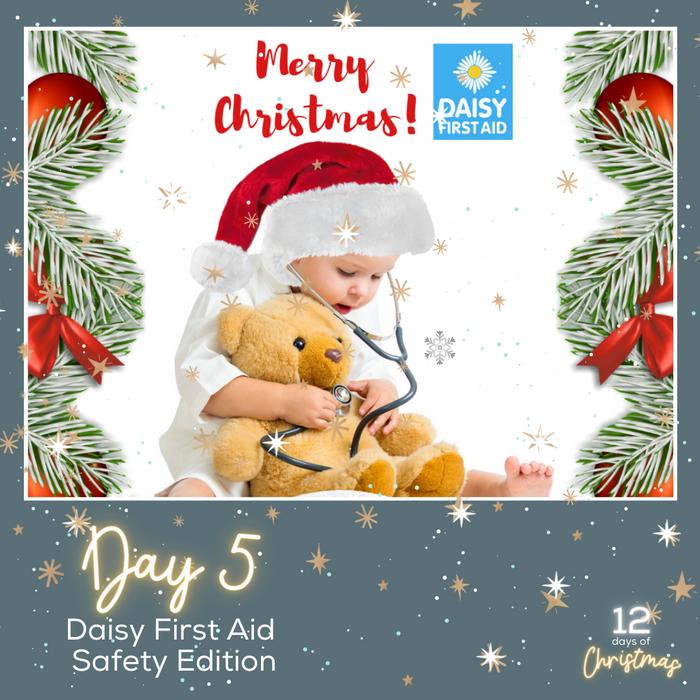 Tips for a Safe and Stress-Free Christmas
Christmas is the season to be jolly but there are plenty of reasons that parents need eyes in the back of their heads, during this busy time of year. Your tearing toddlers running around the house, are always at risk of bumps and bruises and your inherently curious (now crawling!) baby will be drawn to those flashing lights and pretty decorations.
The hustle and bustle can leave parents feeling frazzled but Daisy First Aid have some top safety tips to make sure you all have a fun and safe Christmas to remember. They provide fun and interactive training to parents, carers, teachers, and children across the UK. You'll gain the knowledge and confidence to deal with different accidents and illnesses in a relaxed setting. You'll be hard-pressed to find light-hearted first aid courses in London and in other parts of the UK.
Here are some useful tips to keep you, and your little ones safe at this time of year. '
Top 10 Tips
There are normally 101 people in the kitchen preparing food, so make sure to keep hot food and drink away from edges of tables and work surfaces and also be mindful about sharp knives! Look around you before transferring hot boiling water to the sink, little ones could be hanging around by your legs! Hot drinks are the most common cause of burns in young children, they can burn up to 20 minutes after they have been poured.
All toys need to be age suitable and should have the CE mark or comply with the 2011 toy regulations. Christmas decorations and novelties are fun to look at but are not toys and they do not have to comply with toy regulations so keep them high up where possible and out of reach of those small hands.'
At Christmas there are lots of new toys so be extra vigilant with small parts which could cause choking.' Be extra vigilant with coin batteries, not only can it cause choking but if swallowed can cause burns around the throat area. Ensure little hands cannot help themselves to whole nuts and sweets.'
Make sure visitors keep their bags high and out of reach, prying children hands are all over these if left at floor level, the danger is that it can contain medication, coins, perfumes or sanitizers.
Remember to blow out any candles before going to bed or leaving the house.
Buy shatter-proof baubles, good if the kids or pets accidentally (or on purpose!) break one.
Be careful that children do not get caught around Christmas lights and tinsel which could cause strangulation. Keep cords from lights away from small children and do not overload your sockets
Don't forget the helmets if Santa is bringing a bike or scooter.
When wrapping presents make sure sharp scissors are well away from small children to avoid unnecessary injuries, it's a great idea to teach children when they are old enough how to carry scissors safely.
Avoid hanging stockings over an open fire as a small child will be drawn to them. If they are hung, avoid weighing them down with anything heavy that can be pull down.
We always believe that a little knowledge goes a long way ' have a lovely Christmas and stay safe.
Daisy First Aid x