11 Dec 2021
Festive Food for the whole Family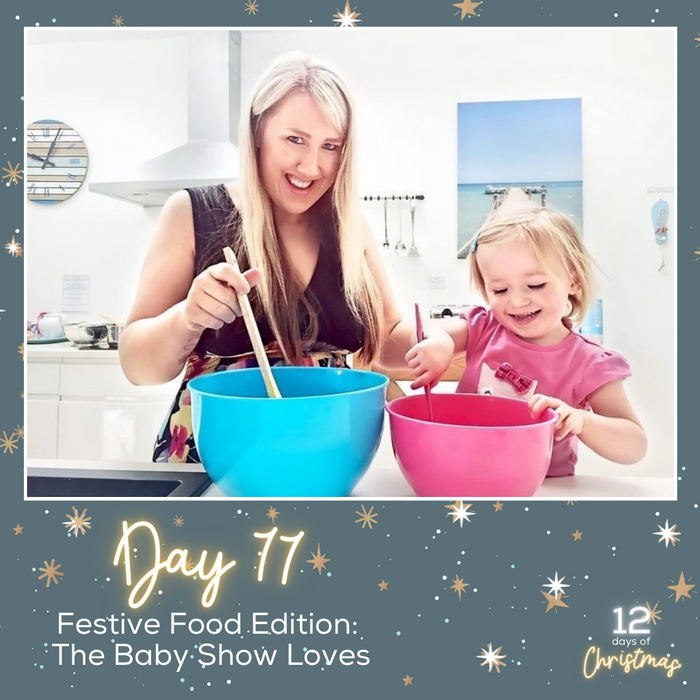 Christmas is the season to be jolly and what makes everyone merrier than a belly full of good food. You may already have a meal plan in mind for the big day, but there is more to festive food than just the Turkey feast! For that reason, we have pulled together some of our all-time favourites to keep those little ones from asking when dinner will be ready!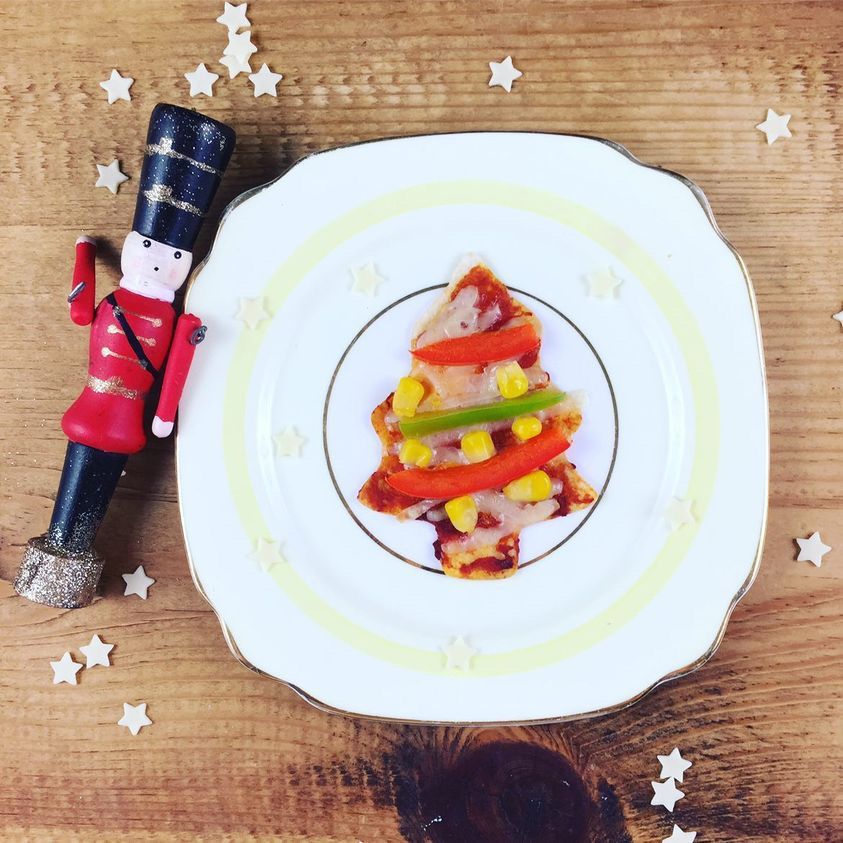 Festive Pizza Tortilla Trees by Natalie Peall, @baby_led_weaning_cookbook
Ingredients
2 tortilla wraps
Tomato puree
1 cup (125g/4oz) grated cheese
1 red pepper
1 green pepper
A handful of sweetcorn
Method
Heat the oven to 200?C / 400?F / Gas Mark 6
Cut out your festive tortilla shapes using your cookie cutters (press hard!)
Spread the tortillas with a thin layer of tomato puree and then top with a light sprinkling of cheese.
To decorate the Christmas tree, strategically place slices of peppers for tinsel and sweetcorn for baubles.
Place the festive tortillas onto a greased baking tray for 10-15 minutes, checking after 10
Serve once cooled.
'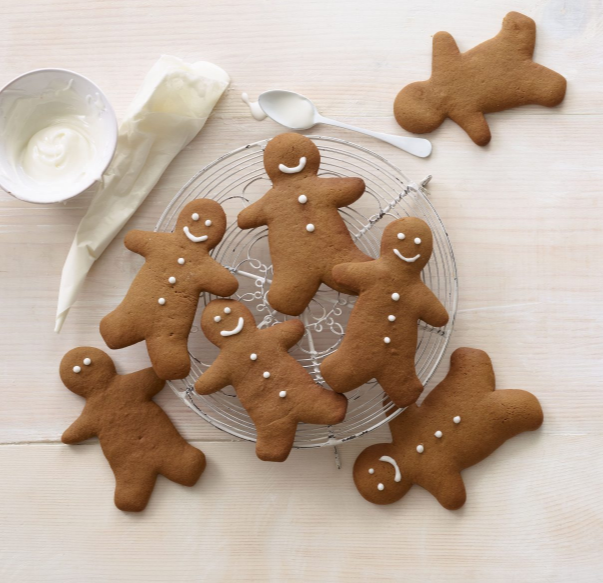 '
Gingerbread Men Cookies by Annabel Karmel @annabelkarmel
These treats are almost too good to eat! Children will love rolling out the dough and cutting the shapes. They can help with the icing decoration too.
Ingredients
90g butter, softened
65g soft dark brown sugar
30g beaten egg (about 1 egg)
65g black treacle
200g plain flour, plus extra for dusting
' tsp bicarbonate of soda
1 tsp ground cinnamon
1 tsp ground ginger
' tsp ground allspice
' tsp salt
Icing
250g royal icing sugar
3 tbsp water
Method
Beat the butter and sugar in a mixing bowl with a hand-held electric whisk until light and fluffy, then add the egg and black treacle and whisk to combine.
Measure the remaining dry ingredients into a separate bowl. Gradually add the dry ingredients to the butter and sugar mixture, whisking until the mixture forms a soft dough.
Wrap the dough in cling film and transfer it to the fridge for about 45 minutes.
Preheat the oven to 200?C / 400?F / Gas Mark 6 and line 2 baking sheets with baking parchment.
Roll out the chilled dough on a lightly floured work surface to a thickness of approx 5mm/ 1/4 in.
Cut out the people using a gingerbread cutter. Place them on the lined baking sheets, then chill in the fridge until firm (about 45 minutes).
Bake in the oven for 12-15 minutes until crisp and lightly golden.
Remove from the oven and leave the gingerbread to cool for a few minutes on the baking sheets before transferring to a wire rack to cool completely.
To make the icing, whisk the icing sugar and water together in a bowl using a hand-held electric whisk until smooth. Spoon the icing into the piping bag and pipe designs on the gingerbread men.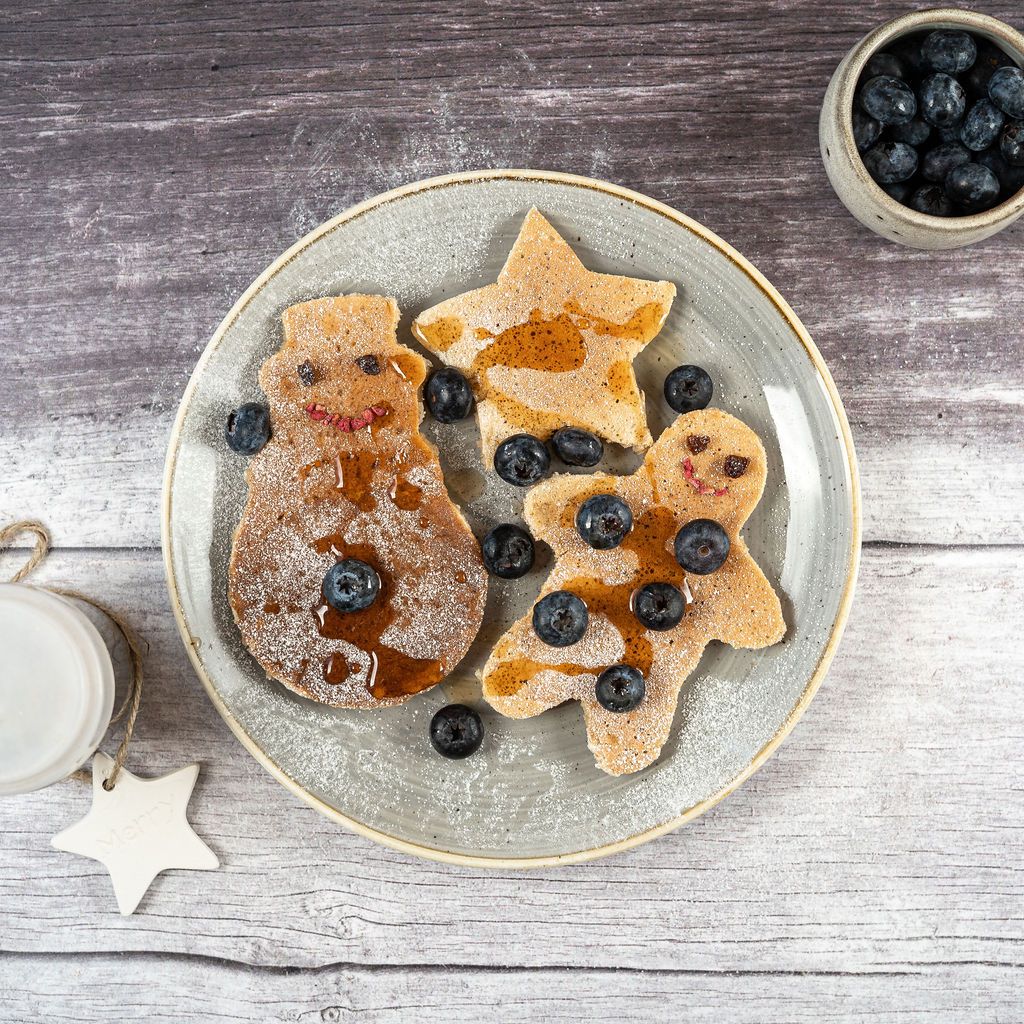 Apple Spice Pancakes by Natalie Peall, @baby_led_weaning_cookbook
Ingredients
1 cup (125g) plain flour
' teaspoon ground cinnamon
2 teaspoons baking powder
1 medium egg
' cup (125ml) full fat milk (any will work ' cow's, soya, oat, coconut, breast or formula)
' cup (125g) applesauce
Method
Mix the flour, cinnamon and baking powder in a large bowl
Whisk in the egg and milk gradually
Mix in the applesauce
Add a splash more milk if your batter seems too thick, however, it should be thick enough to create shapes
Heat a large nonstick frying pan over medium heat
To make Christmas shapes, lay large metal cookie cutters in the pan. Pour a few tablespoons of batter into each one. Alternatively, spoon the batter into the pan normally for circular pancakes
Allow to cook for 2-3 minutes on one side, until you see bubbles coming to the top of the pancakes. Then carefully invert the cookie cutters and press the pancakes out into the pan to cook the other side for another 2 minutes
Serve once cooled with fruit and a drizzle of maple syrup for a treat!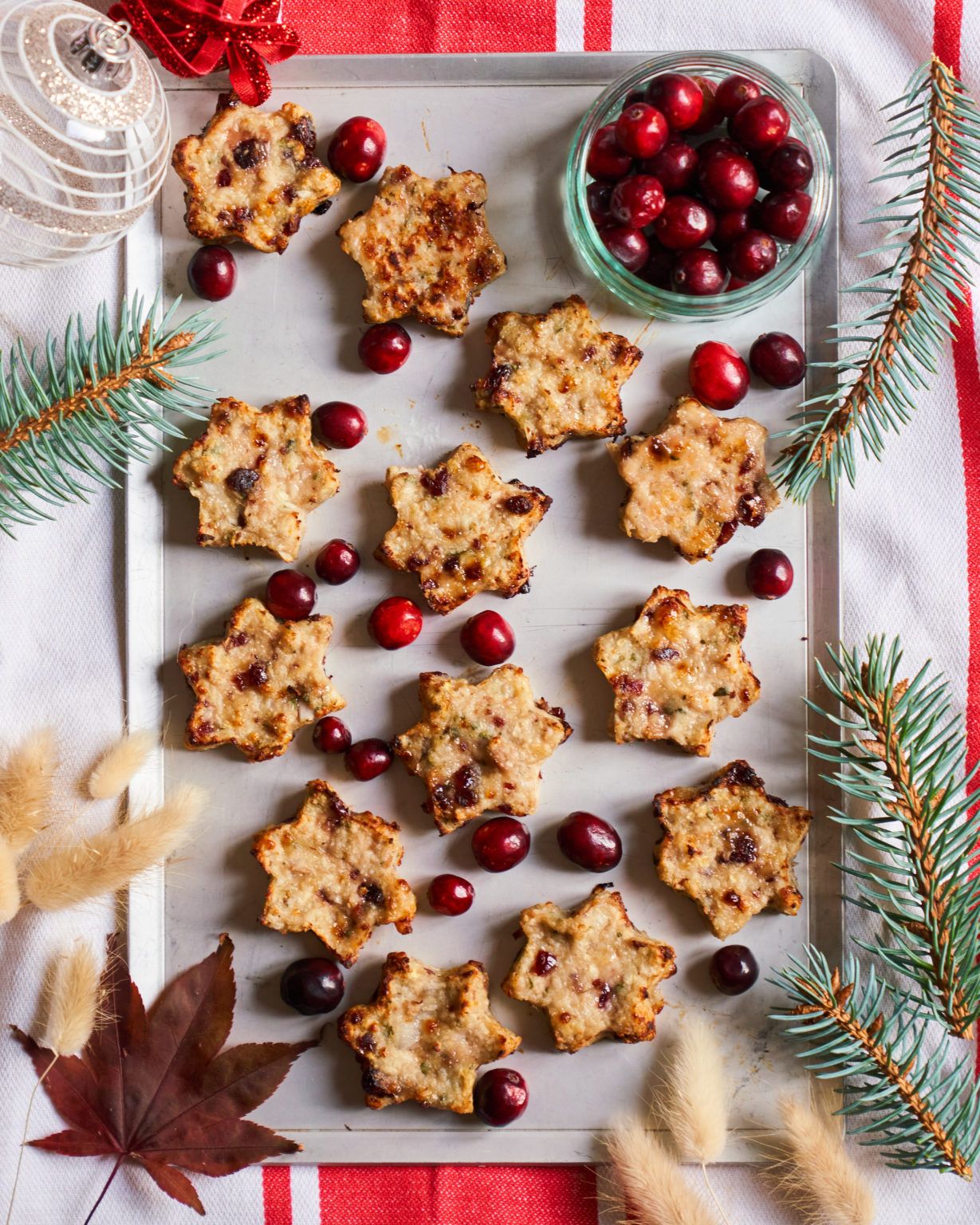 Turkey and Cranberry Stars by Annabel Karmel @annabelkarmel
Catch a falling star and put it in your mouth! These tasty turkey stars will be a hit with little and big ones alike.
Ingredients
300g minced turkey
1/2 apple, grated
1 large banana shallot, chopped
25g dried cranberries, chopped
1 tablespoon sage, chopped
25g parmesan, grated
30g Panko breadcrumbs
Method
Preheat the fan oven to 180'
Measure the ingredients into a processor or chop finely by hand.
Grease a baking sheet. Put a star cutter onto the baking sheet. Spoon the mixture
into the cutter and press down to fill the space.
Remove the cutter and repeat with the remaining mixture leaving a space between
each star. Bake in the oven for 15 minutes until cooked through and
lightly golden.
'