Five reasons to incorporate sensory play for your baby's development, from leading baby brand Lamaze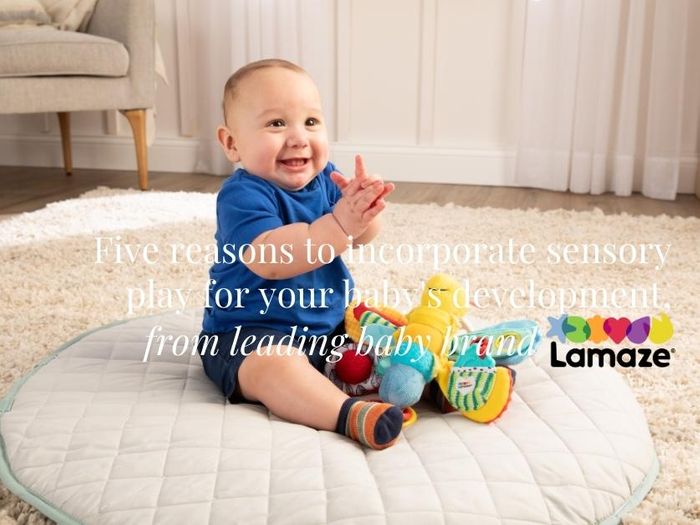 As a parent or parent-to-be, you may have noticed that babies have an insatiable curiosity about the world around them. They touch, taste, smell, see, and hear everything they can get their tiny hands on! This natural curiosity is not just adorable but is also a fundamental part of their development. Sensory play, or play that engages their senses is crucial in helping babies explore, learn, and grow.
But what is it that makes sensory play so important for your baby's development?
1. Brain and cognitive Development
Your baby's brain is like a sponge, ready to soak up information. Sensory experiences help wire their developing brains and is an excellent way to promote problem-solving, spatial awareness, and understanding cause-and-effect relationships. Every time they touch, see, hear, smell, or taste something new, their brain forms new connections and strengthens existing ones. This is essential for cognitive development, helping them learn about the world and make sense of it.
Freddie the Firefly from Lamaze is the perfect activity toy to support development, ready to fly on baby's next adventure. Freddie's soft ribbon antennae and click-clack rings are easy for little fingers to grasp and hold. Sensory play bright colours and contrasting textures encourage sensory discovery with Freddie the Firefly. Baby will love the fun squeaker sound and soft ladybug teether and a secret Peek-a-boo mirror is hidden in Freddie's wings to reflect all the bright colours and encourage baby's self-recognition.
2. Motor Skills
Sensory play promotes the development of both fine and gross motor skills. Your baby's fine motor skills improve as they grasp, pinch, and manipulate objects, while gross motor skills are developed through activities like crawling, reaching, and stretching. These skills are crucial for physical development.
To support baby's motor skill development say Ahoy matey! to baby's first shipmate, Lamaze's Captain Calamari. This octopus pirate has eight knotted activity legs that are great for exploration. Captain has a hidden mirror that helps teach self-recognition and offers fun peek-a-boo play. Baby can discover his crinkle hat, fun rattle and clacking rings for baby to grasp and play with, perfect for helping develop fine motor skills.
3. Emotional and Social Development
Sensory play can be a social experience when babies play with caregivers or other children. This interaction helps babies understand social cues and build emotional connections. They learn about sharing, cooperation, and empathy through sensory play with others.
The Lamaze Soothing Heart Panda is the perfect friend to have as part of your bedtime routine as you calm your baby down after a busy day whilst helping them feel safe and secure. Press the tummy to cycle through four bedtime melodies, each accompanied by a red light and a vibration synced to the rhythm of a resting heartbeat. With a friendly, embroidered face and unique patterns and textures for baby to explore during play, it's impossible not to fall in love and wonderful for emotional development.
4. Creativity and Imagination
Sensory play encourages creativity and imaginative thinking. Babies can use their senses to create, experiment, and explore, fostering a sense of curiosity and wonder. This sets the stage for a lifelong love of learning and creativity.
Lamaze My Friend Jasmine is a beautiful first doll for a baby, encouraging sensory learning and fine motor skills and enhances early imaginative play. My Friend Jasmine is dressed in a cute pink romper with crinkly legs! These Lamaze toys have so many fabric textures to explore and an embroidered face. Plus, this My Friend Jasmine Lamaze toy has a rattle flower that's tethered to her hand to look like a cute purse. She also comes with a large clip to attach her to a stroller, car seat, diaper bag, or anywhere. Sensory learning becomes a pretend-play adventure with the My Friend Jasmine Lamaze toys.
5. Self-Regulation and Stress Relief
Sensory play can help babies learn to regulate their emotions and reactions. The sensation of touching a soft fabric, for example, can be calming and reduce stress, helping teach babies how to soothe themselves and manage their feelings making sensory play incredibly calming. The sensations of playing with water or feeling soft fabrics can provide relaxation and stress relief, both for babies and their caregivers.
To support with calming babies the Lamaze Puffaboo Elephant is an adorable friend and an instant baby-soother! Fold the crinkly ears over the eyes for a game of peek-a-boo. Explore the fascinating fabric textures and then give it a squeeze to hear it squeak. But it doesn't just squeak. The trunk blows a puff of air for a gentle distraction that quickly turns tears into giggles, providing relaxation for your baby.
Ultimately, sensory play is just great fun for babies
It brings them joy, and this positive association with learning and exploration is essential for their overall well-being.
By engaging their senses and providing opportunities for exploration, you're helping them build a strong foundation for cognitive, emotional, and social growth. So, embrace the mess, explore textures, and enjoy the smiles as your baby discovers the world through their senses. Sensory play is where the magic of development begins.
Parents can save 50% on the Lamaze soothing range by visiting https://lamaze.uk/