23 Aug 2021
Five Things To Consider When Choosing Your Antenatal Class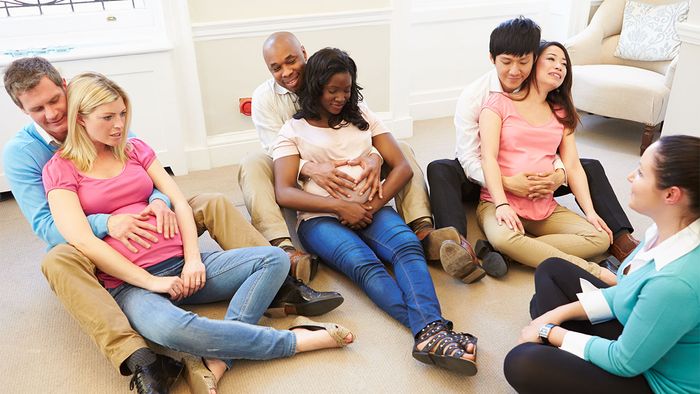 Now that Covid-19 restrictions have been lifted, it's great to see face-to-face antenatal classes and meetups happening again at venues across the UK, giving parents-to-be and new parents much needed information and support.'
Choosing the right antenatal class is an important decision and you will need to consider what you want from the course, and which one fits best with your needs and budget. There's no harm in thinking and enrolling on an antenatal class sooner rather than later in your pregnancy as they do tend to get booked up quickly.

Here are five things to consider when you're looking at your options.
1. Experts
Any antenatal class should provide evidence-based information you feel confident and comfortable making decisions on. How you feel about your learning is largely down to the person who is delivering the information and advice. What are their qualifications? It's always good to have someone who is knowledgeable about the current local birth options from midwife-led units and birth centres, to consultant-led hospitals or home births.

Happy Parents. Happy Baby.'Antenatal courses are run by a team of specialists including midwives, obstetric doctors, hypnobirthing teachers, women's health physios, paediatric (baby) doctors, feeding experts and first aid instructors. As experienced NHS workers and parents themselves, they will bring you real information that you can trust.'
2. Social
Parenthood can be lonely and daunting if you're doing it by yourself. If meeting a great group of local friends who will be there to support you and experience the highs and lows of parenting with you is important, a local group class can provide much-needed support, connecting you with friends for life. Just being with parents who are going through similar experiences can be a huge comfort and make those early long days seem shorter.

NCT'classes are UK wide and great for making local friends as well as delivering the essential antenatal education. If your main reason for doing an antenatal class is to make friends, then also check out'The Mum Club'who run some amazing events connecting mums. Also, apps such as'Peanut'and'Mush'are great to help you find like-minded friends.'
3. Baby First Aid
Some antenatal courses now include a section on Baby First Aid so you don't need to do a separate course. Let's face it, no one likes to think about their baby choking, having an accident or being in an emergency situation but learning some simple baby first aid skills can help you feel more confident and prepared if this should happen.

You can also do Baby First Aid courses separately, some like'Daisy First Aid'will even come to your home.''British Red Cross'also run local classes for parents, grandparents and carers so you can be confident that whoever is looking after your child is up to speed with the latest information and techniques.'
4.'Hypnobirthing
Hypnobirthing classes are now hugely popular and can help many women feel calm and in control before and during birth and minimise the chance of intervention. Some general antenatal courses include a hypnobirthing section while some women prefer to do a dedicated hypnobirthing course. Hypnobirthing can give you the skills and tools which will benefit you, whatever type of birth you have, even a C-section.'
5. Partners
Partners/birth partners can be a huge support in the lead-up, during and after birth. So it's important they are part of the antenatal process and they do not feel like a 'spare part'. Partners are involved in many classes and are given practical and emotional advice so they are well equipped to support themselves and you. There may also be some elements of the classes which are mum-only such as breastfeeding classes and also specific classes for dads and grandparents.