03 Dec 2021
How to stay sane this Christmas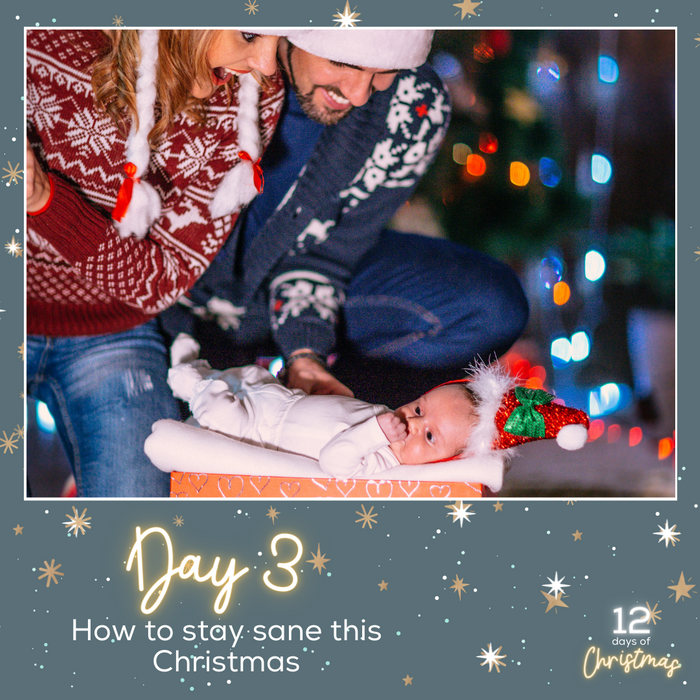 We know that this year has been strange and stressful for everybody, with or without a baby. So we understand that planning how to spend your Christmas can be stressful, especially when you add a baby in the mix! You might be wondering how other parents do it and why you feel overwhelmed just by thinking about Christmas. With young babies, plans can change, and that is why we have gathered our top tips from The Baby Show team on how to stay sane this Christmas and enjoy it rather than stressing about it.
Going out or staying at home?
If your little one does not get agitated by loud music, people chatting loudly and laughing ' then going out can be the right choice. However, if you are not sure if your baby can tolerate all these things, we would suggest staying at home and inviting close family to spend Christmas together. This way, if your baby can follow their usual routine, and if they do get grouchy with all the fuss, you have all the tools you need at the comfort of your house to soothe them.
Baby Gifts
We know is exciting seeing all these new different toys and gadgets ' but does your baby really need them? Babies are often not impressed by gifts, as they'd rather play with the packaging or an empty cardboard box, so why not go simple and save your pennies?
Create a list of things your baby actually needs and then share it with those who are planning to buy something for you and your little one.
Be flexible and realistic
In general, you never know what can happen ' even when you've spent hours and days planning and organising something. Things might change so be mentally prepared to adjust plans and know that everything will be fine, even if the baby falls asleep when you planned to have pictures taken!
Best activities for you
No one expects you to enjoy every festive activity ' so make sure to participate only in ones you absolutely love. Do you really enjoy making holiday cards? Are you really a fan of baking? Just make sure that you think of yourself as you are more than allowed to prioritise yourself and enjoy the holidays too.
Lower your expectations
Sure, everyone would love everything to look perfect for Instagram, but that isn't real life. Christmas is fun, but it's messy and hectic too. The house doesn't have to look like a show home, who cares if the oven hasn't been professionally cleaned, or if you aren't wearing matching outfits. Your children won't remember, they'll just remember the magic and the love they feel from having their family around.
It is possible for parents to get through the holiday season with a sense of sanity ' you just need to prioritise what you and your baby need and want. Don't forget to check out our Instagram and TikTok'to find more tips on how to stay sane this Christmas by the amazing'@themummy.motivator.
'