09 Dec 2021
Make your baby's first Christmas magical with Tiffany Norris, The Mummy Concierge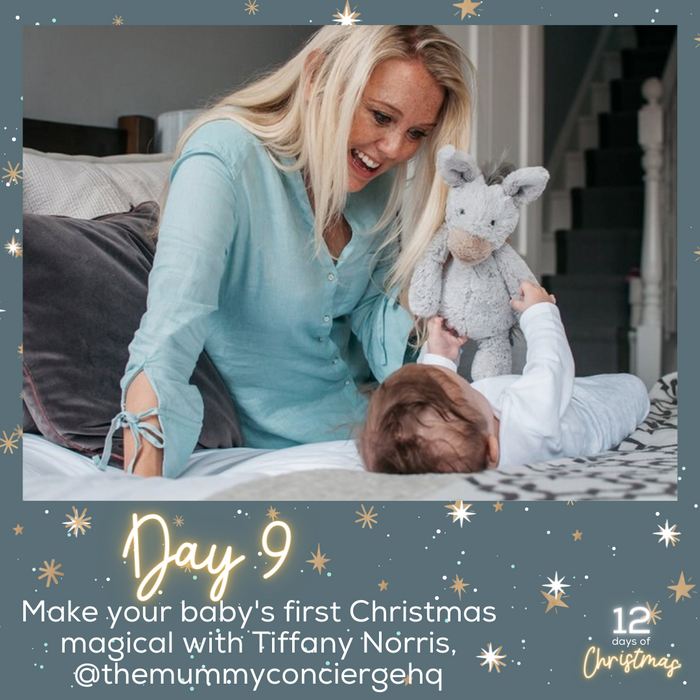 Want to start up a new Christmas Tradition? Dress your baby up as a Christmas Elf? What exactly can you do to make this Christmas the best it can be for your baby?
'
Tiffany Norris, aka, The Mummy Concierge has worked with thousands of new parents, including A list celebrities and members of the Royal family, to help them prep for parenthood. Here she shares her top tips on how to make your little ones' first Christmas as wonderful as possible.
'
Create a Keepsake Christmas bauble -'Personalise a Christmas bauble using your baby's Fingerprints. There are lots of pottery shops around the UK that can do this for you ' but if you want to get creative yourself'then you can buy plain colored baubles on amazon. Then simply dip your baby's finger into a bit of paint, dab it onto the bauble, and ta-da! You have your own little masterpiece. Make sure you date it so you can remember how little they were.
Stock up on your Christmas Library -'As your child gets older, reading books about Father Christmas and snow will be high on their priory list as Christmas approaches. Start stocking up on some classic children's Christmas books now and add them to your Christmas library each year. You can even write a little festive message inside each one to make it more personal
Make the nursery festive'- just because they are so little, it doesn't mean their nursery can't be festive. Buy a little Christmas tree or put up some fairy lights. Your little one will love looking at all the festive colours and sparkles
Invest in an advent calendar that you can keep for years -'rather than buying a nasty chocolate advent calendar every year, why not invest in an advent calendar where you can add your own little treats. The great thing about this is that every year you can tailor the surprises to their interests!
Turn their toys festive -'if you have a baby gym, swap some of the toys for Christmas baubles instead! Your little one will love having something new and exciting to look at and it will make everything look so much more festive!
Immortalize their handprint or footprint in clay -'You can buy lots of 'footprint kits' online nowadays and they are incredibly fun and easy to do. Then, every year you can hang this piece on the tree or above the mantle and be amazed at how tiny your little one once was
Start a totally new tradition this year for Baby's first Christmas. Your little one won't be able to participate yet, but you'll start the "lead by example" idea early. The most popular tradition at the moment is matching Christmas eve pyjamas for the whole family.
Buy One Special Gift - there's nothing wrong with getting your baby just one special thing. Think about a gift that she'll treasure as an adult, like a memory box, a gorgeous silver rattle, an engraved baby cup, or a quilt made from her too-small clothes.
Chart your baby's growth'- snap an annual Christmas picture next to your object of choice'the Christmas tree, a teddy bear, the fireplace at Grandma's house, etc. Or alternatively, buy a height chart (there are some beautiful ones online) and make a habit of every Christmas day, marking how tall they are on it.
Make or buy a personalised stocking - They'll use it every year, so personalizing baby's first stocking is a pretty special thing to do. If you're not crafty you can always buy a personalised one online. Imagine the years of excitement to come when they pull it out of a box each year and see their name embroidered on top?
Check out our Instagram for more magical Christmas tips!''
'