Our Top Breastfeeding Wear & Nursing Bras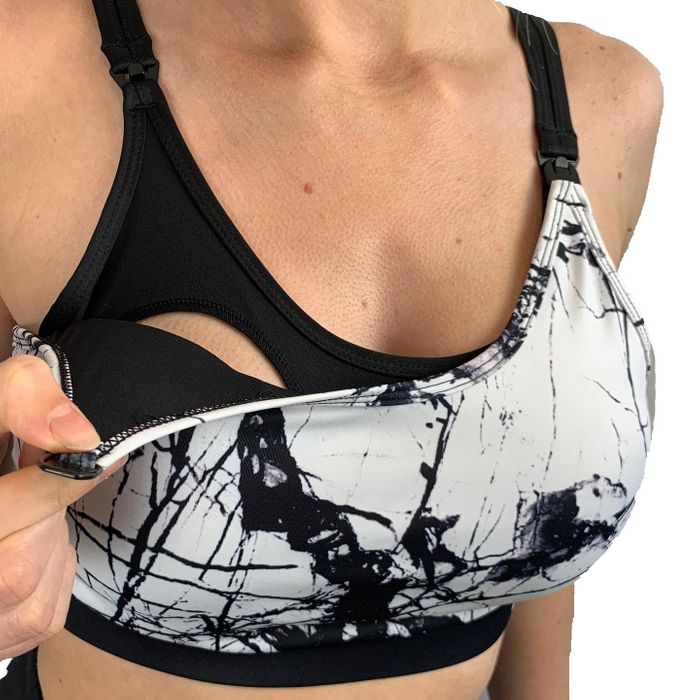 We're still celebrating breastfeeding week with our top maternity wear and nursing bra picks.'
Breastfeeding is the most natural and beautiful process for all mothers. Often parents focus on ensuring that the baby has the right clothes, bibs, toys, creams and so on, that they often forget about themselves in the process. Especially when it comes down to clothing. It's your choice on how long you would like to feed your baby is up to you, some mothers breastfeed their children up to the age of two, but it is recommended that you feed them for at least six months. This may not look like a long time, but if you have to feed them every 2-3 hours for six months can seem quite a long time, especially if you aren't wearing the right nursing bra or maternity wear.'
So we've picked a few of our favourite nursing bras and maternity wear to make your breastfeeding journey easier, making you on stylish and trending breastfeeding 'milking mama'.
'
Latched Nursing Bra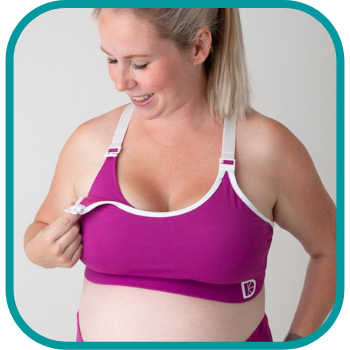 Breastfeeding shouldn't deter you from carrying on your active lifestyle after you've given birth. So, if you're looking for a nursing sports bra that you can wear, then'Latched'have you covered. With discreet nursing clips, you have an option to wear it as a traditional or racerback sports bra, with a free extender to cater for expanding ribs, all whilst you looking super chic. Now, all you have to do is find the right colour to suit you.'We, however, have been drawn to the raspberry coloured on.
'
Lindex Soft Nursing Bras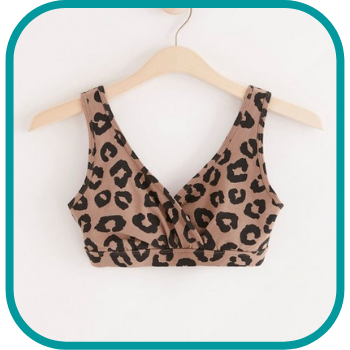 We love leopard prints.'It's an unwritten love and admiration that we have with this animal print. So, when we see an amazing product that has a leopard print we get even more excited.Lindex soft nursing bras'are so comfortable and stylish, they also have an extra-wide fastening to the back with a wrap strap design helping you nurse easily without unfastening anything.'
'
Breast-Friend ' Top-Pops and Muslins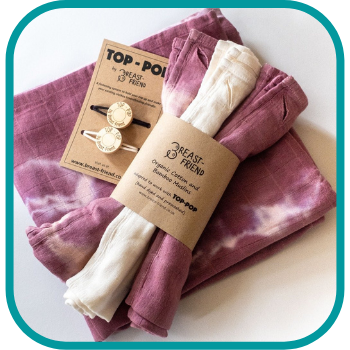 When breastfeeding, mothers often have to wrestle with their top, ensuring that this doesn't come between them and their baby, but equally trying to cover them while breastfeeding.'Breast-friend's 'Top-Pops' and muslins'just do that. Made from sustainable plywood and eco-elastic, they tie up your top easily while the toggle allows you to hook on their 100% organic cotton muslins which come in a variety of colours. Their products make any clothing feeding friendly.'What a nifty little gadget!'
'
Ruma Breast Wear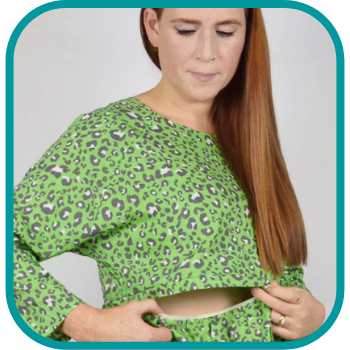 Ethically made in the UK,'Ruma'dresses are not only stylish and fashionable but they have translated traditional maternity wear to suit modern mothers. Their stylish dresses come in a number of different patterns, even a funky looking green leopard print, but are more known for their signature 'two-way' zip which helps to breastfeed more easily.'It's a fashion-forward aesthetic that you won't find anywhere.
'
Seraphine Bamboo Nursing Bras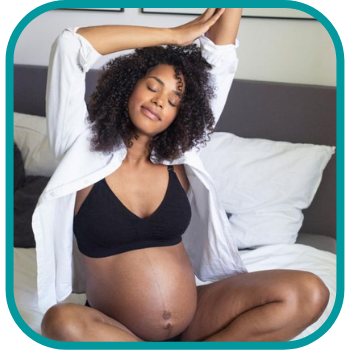 Made in the softest bamboo viscose,'Seraphine Nursing Bras'are ultra-soft and seamless with a truly flexible fit. They are maternity and nursing bras must-have for during and after pregnancy. Their bras are hypoallergenic and temperature regulating; helping to absorb moisture and even provide anti-bacterial properties ''perfect for you and your newborn
'
H&M MAMA 2-pack nursing tops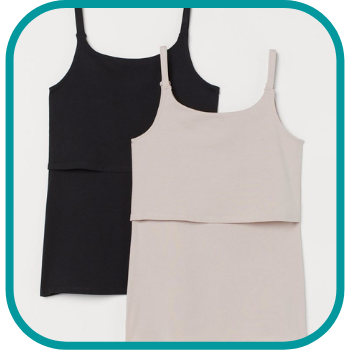 At The Baby Show, we pride ourselves in supporting small and local brands, including niche brands. Equally, we know that not all mothers have the budget to shop at their local independent shop, that's why we've included H&M on our list. Not only are they on nearly every high street but they do have some stylish maternity wear at an affordable price. We've chosen their'MAMA nursing top. They come in a pack of two and are made of 95% soft cotton jersey. They have narrow elasticated shoulder straps and a double layer at the front with a practical inner top for easier nursing access.''
'
Tilbea ' Beatrice Leopard Print Maternity Nursing Top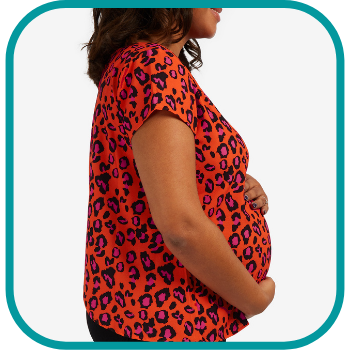 '
We all know that'Tilbea'design affordable and stylish maternity clothing. And when we came across this little leopard print number we had to include it in our favourite nursing wear product lists. It's a super easy to wear top and is an essential staple item for your wardrobe for before, during and after pregnancy.
This relaxed vibrant print drapes perfectly over your curves, while the vent back design offers a flexible fit and easy access for breastfeeding.
'
Lily & Ribbon ' Stripe Maternity and Nursing Jumper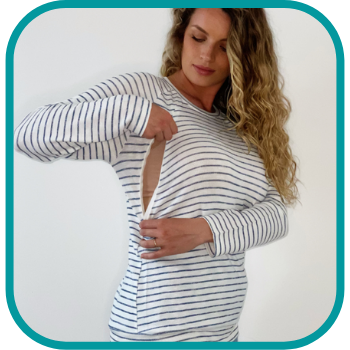 The Evening Standard newspaper herald'Lily and Ribbon'the perfect place for a then-pregnant Meghan Markle to shop. Then how could we not have included them?
We've chosen their maternity and nursing stripe jumper ' perfect for those unpredictable chilly British summers. Made from a super soft 50% cotton and 50% acrylic, it is designed to grow with your bump, but the clever inconspicuous zip makes breastfeeding doddle when out and about.
'
Natal Active Nursing Sports Bras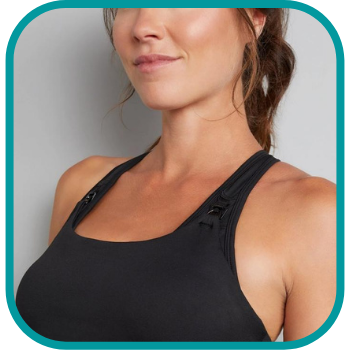 A woman's body changes so much when she is expecting, but more so when you're breastfeeding.'Natal Active Nursing Bras'adapt to these changes. Sizing from a B ' G cup allows you to purchase your pre-pregnancy size and feel confident that the bra will still fit even after your breastfeeding journey.'An investment worth making.
'
Fun fact:'Female leopards are the strongest animals in the cat family and we all know how strong mothers are too. No wonder why we, at The Baby Show, are attracted to animal prints.'