04 Aug 2021
Small Business Saturday Edition: The Baby Show Loves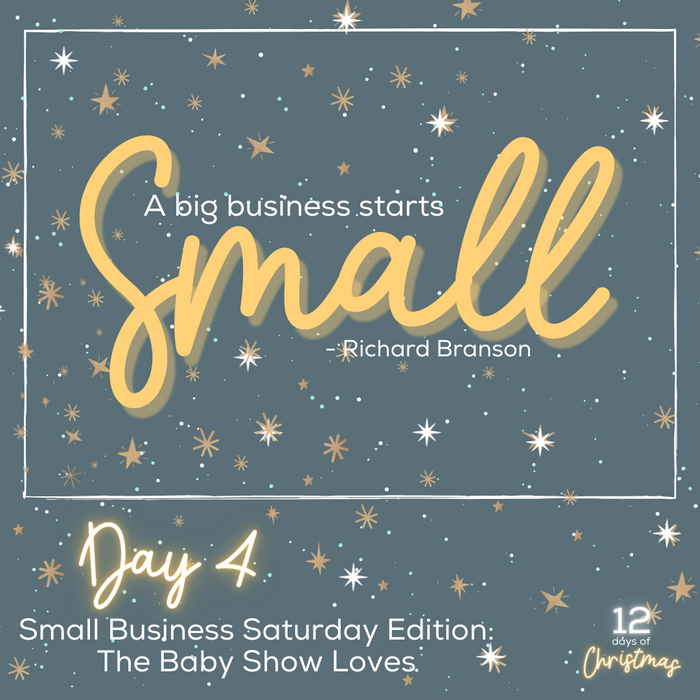 When you buy from a small business, the actual person does a little happy dance. True story!
It's Small Business Saturday and today we're celebrating some of the brilliant small businesses we're lucky enough to work with. Need some baby gift inspiration this Christmas? Here's our top picks...
'
Nothing beats a classic wooden toy at Christmas! This beautifully designed retro campervan style wooden 2-in-1 walker and ride on from Vilac comes with a compartment for little ones to carry small toys or comforters around with them.'
'
Give your baby something festive to chomp on 'the safe way to sooth tired, teething gums. Made of food safe silicone, these are perfect stocking fillers!'
'
Books are always a winner! These 'Indestructibles' are amazing chew-proof, rip-proof, waterproof books for babies and toddlers that you love as much as we do! Find them in their 3 for '10 special offer.
'
Too cute not to include in our favourite Christmas gifts for baby ' this limited edition CuddleELF towel is made from supersoft and cuddly eco-friendly bamboo fibre & pure cotton. Imagine the delight on their little faces when they put this on, and how fantastic your photos will be of your little festive elf!'
'
Stocking filler! This wooden and silicone teething ring can be personalised making it that extra bit special. Made from the high-quality food-grade silicone, you can choose the name, coloured beads and wooden ring.
'
These chunky knit beanie hats with faux fur pom poms are a must for winters days in the park. Available in Black, Khaki, Blush or Cream.
'
Make mealtimes fun with this beautiful bamboo dinner set, perfect to kick-start their weaning journey. The set comes with one bowl, one plate and set of 5 spoons and with a powerful suction base, the plate sticks to a highchair or table to prevent spills and is great for out and about. Now, which animal to choose?
'
With ultra-cute ears and rabbit tails, these adorable baby blankets will give the sweetest of dreams for your little bunny. Choose from grey, pink or yellow.'
'
We love these cute rompers for your little puddings. All their clothing is 100% Organic cotton, vegan, ethically made, sustainable, designed and printed Pip & Tiny personally in Wales.'
'
Capture a baby's footprints forever this Christmas with these beautiful baby animal drawings. Available with penguin, polar bear, bear, rabbit or lion, plus you can also add the baby's name at the bottom. Every kit includes a baby safe inkpad and full instructions on how best to add the best footprints, so they'll have everything you need to get started.