08 Apr 2022
Understanding your baby's skin by Joanna Jensen, Founder of Childs Farm with Dr Jennifer Crawley MBChB, BSc., MRCP UK (Derm)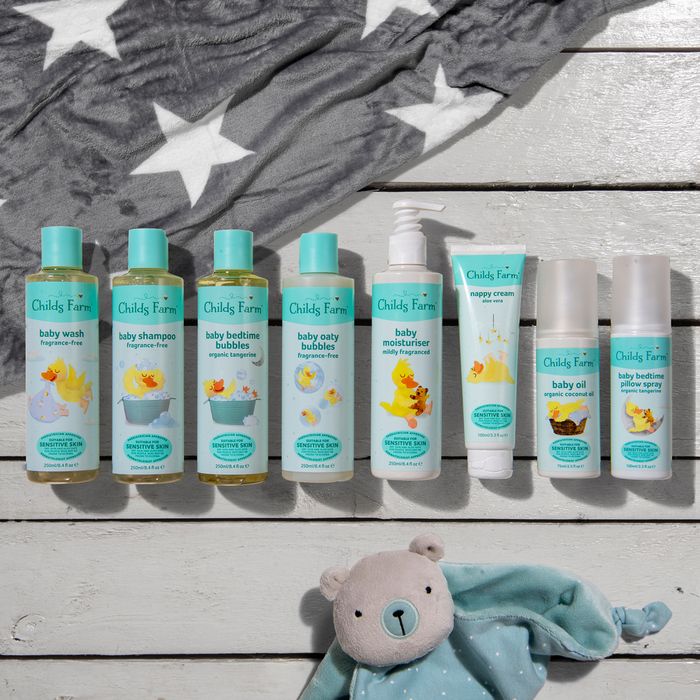 Childs Farm is the UK's favourite baby and child personal care brand.
The award-winning range of products were first created by Joanna at her home, Childs Farm, to soothe her daughters' sensitive skin, whilst making bath time fun.
All Childs Farm products use natural origin ingredients and sustainable packaging because every child deserves to be happy in their skin, whilst also doing the best for our planet too.
Joanna and Dr Jennifer Crawley, a consultant for Childs Farm and head of paediatric dermatology at University College Hospital London, share some facts about newborn skin that will help you to ensure baby's comfort in their first few months.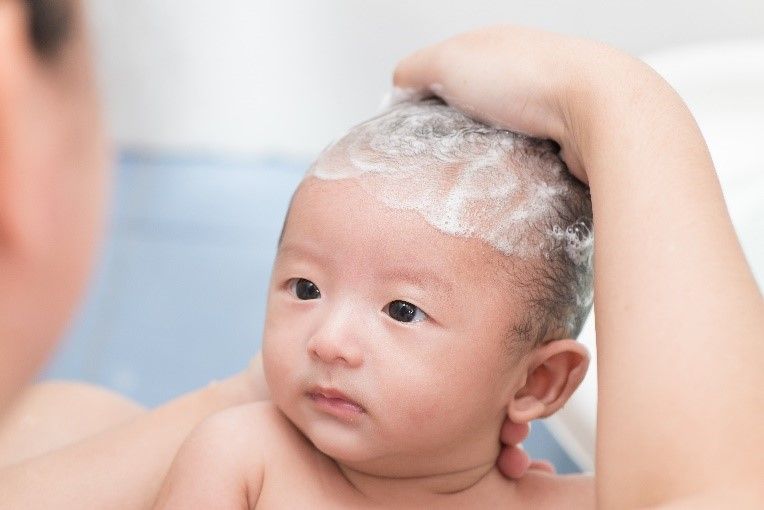 When your baby is born, it can be a bit of a shock to see a thick white coating on their skin. This is called 'vernix', a natural waterproof coating which counters the drying effect of amniotic fluid. Let it remain on babies' skin so it can be absorbed naturally, and it will help to protect against infection.

During pregnancy, your hormones pass through the placenta into your baby's blood meaning after baby is born, some of these hormones will remain in their body. These hormones can be responsible for cradle cap: thick, waxy yellow scales that appear on baby's scalp. Whilst it's very tempting to pick, resist the urge! Instead rub moisturiser into the scalp, and at bath time use a gentle moisturising baby shampoo to cleanse the scalp.

When baby is born the top layer of skin (epidermis) is thinner and made up of far smaller cells than an adults. It's therefore important to keep skin clean avoid infection or irritation, but not to overdo it. Bathing newborns to two months old three times a week is more than enough, with changing mat cleans as required. Try using a soft, bamboo cloth with warm water and a gentle body wash rather than a wipe: better for baby's skin, and kinder to the planet too.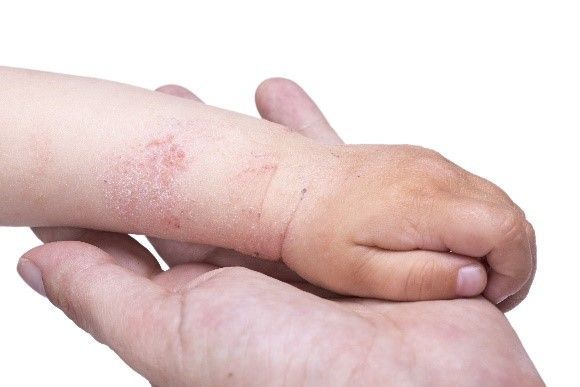 Newborn skin has a higher pH level, so it's more prone to dryness and eczema: indeed in the UK, 1 in 5 under fives suffer from atopic eczema. Ensure that you use products on baby's skin that are suitable for delicate, sensitive skin. Wash clothes in non-bio detergent to prevent irritation, and use natural fabric clothing too.

Skin helps regulate body temperature, but a baby's skin isn't mature enough to do this meaning baby gets hotter and colder more quickly, and more easily, than a child or an adult. Avoid extremes of temperature: wrapping up warm before going out in cold weather and wrapping baby in a warm towel straight out of the bath help prevent change of temperature shocks.

Baby's skin is at its most delicate during their first month, as it is yet to form the barrier that will eventually protect from irritation and prevent infection, and it will be a further 12 months before it has matured enough to develop this. To keep skin cells plump and defensive, it's really important to regularly moisture baby's skin to support a robust skin barrier. Use a moisturiser which is rich in natural protectors ' gylcerin, shea and cocoa butter ' which will not irritate baby's delicate skin.

Baby acne is not unusual when baby is a few weeks old, and appears as little red spots appearing around the cheeks and nose. It will usually disappear at around 4 months, but to ensure spots don't become infected, clean with a mild baby wash on a soft bamboo cloth to keep skin clean, making sure that you dab and not rub.

A baby should never been exposed to the sun as they have little melatoin to protect it from burning, even with a sun screen. Keep newborns to six month olds out of the sun entirely. Note that UV rays penetrate shade and glass, so be conscious of where you put baby for a nap. When baby is subject to sun exposure as they get older, always ensure they are covered in a 50+spf sun screen designed for baby's and sensitive skin.

We're delighted to have Childs Farm at The Baby Show with Lidl GB, NEC'Birmingham, 13-15 May 2022.
Joanna Jensen will be talking about baby's skin at the Childs Farm stand at 11am on Friday 13 May 2022 at the Birmingham NEC.
Why not stop by and learn more about how to look after your little one's skin and with a chance to WIN the award-winning Childs Farm range.
Visit Childs Farm at the NEC, stand C20.