19 Oct 2021
What seat at the table will you pick? Stokke' has the ideal high chair for you, your baby and your interiors!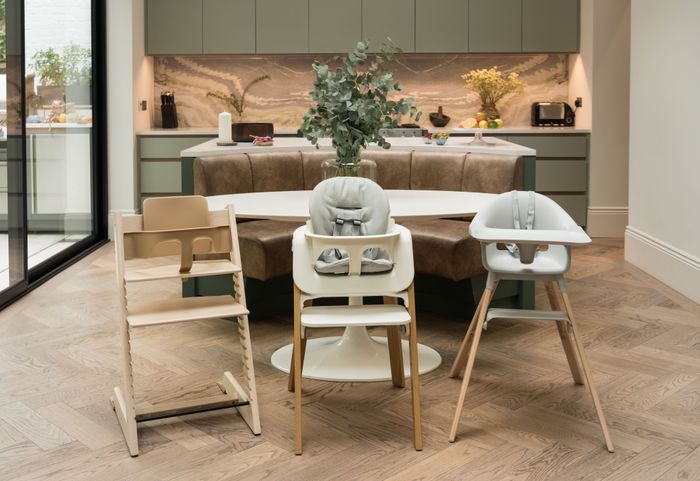 Choosing the right product for your baby and your family can be both an exciting and daunting experience. Each family will have their own priorities when it comes to what they want from a high chair.
Are you looking for a high chair which keeps mealtime mess to a minimum and is easy to clean, or maybe you want the best-rated high chair of the year so far? Alternatively, you could be searching for a high chair that blends with the aesthetic of your home, or maybe you are looking for a high chair that's space saving yet beautiful in design? With so many options available and plenty to think about, it can be an intimidating process.
According to research'by Happy Thinking People (April 2021), there are specific criteria parents are looking for when it comes to shopping for their high chair and general baby equipment. Comfort comes out on top (100%), followed by high-quality, long durability and great stability (98%). Easy to clean (95%), child-proof material (92%)' and easy to handle (88%) are also in the top ten requirements for parents. However, design and style is also key. 78% of those surveyed want an attractive design when it comes to a high chair, with 70% seeking a chair design that fits their home.
To make the decision as simple and enjoyable as possible, Stokke' have three award-winning seating solutions that are all designed to bring your child closer for bonding and connection. With safety and child development at the forefront of their high chair design, Stokke' has the right high chair to suit your needs and personal style.
'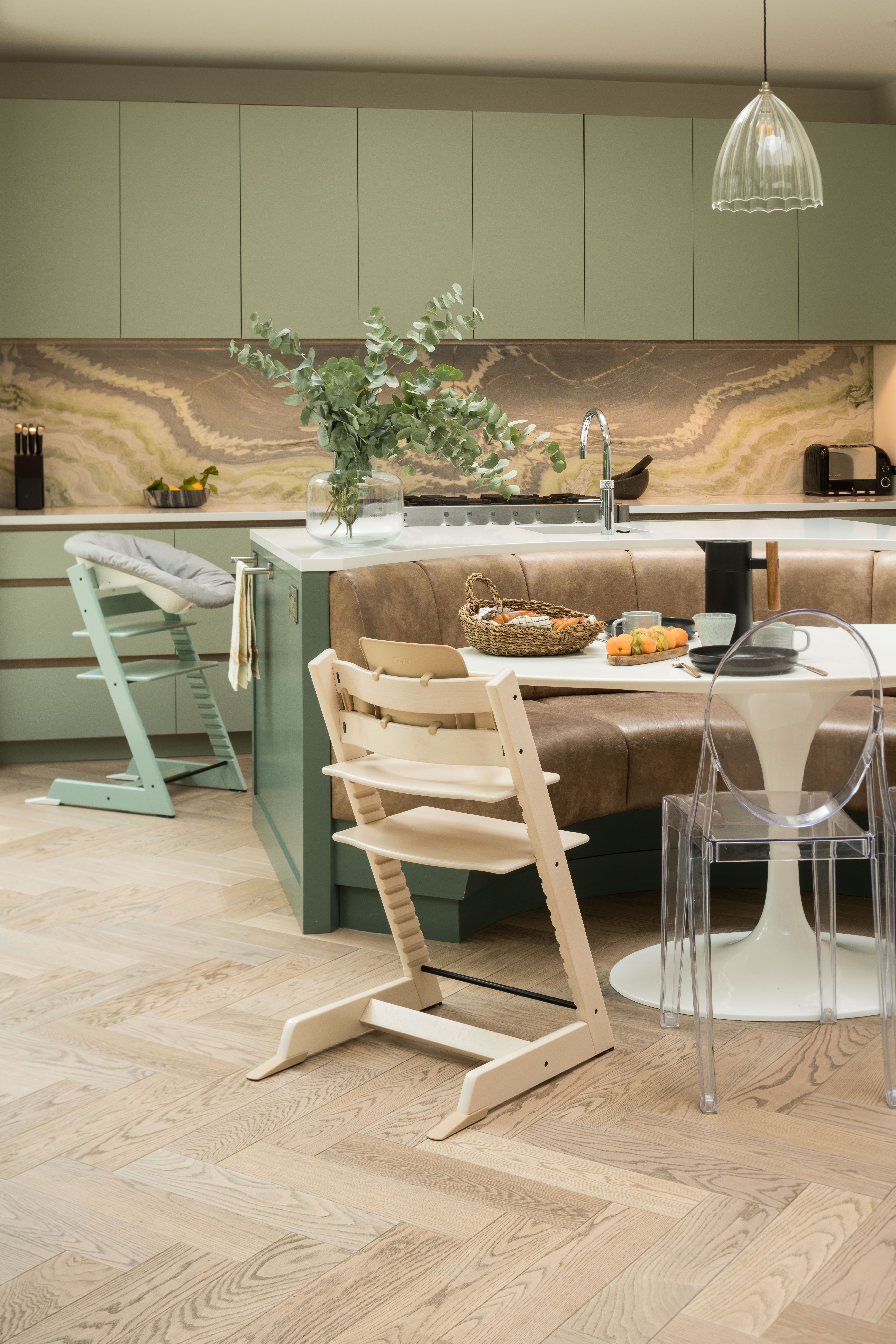 The Classical Design Icon, Tripp Trapp'
The Chair That Grows With The Child', Tripp Trapp' is as iconic in design as it is in status. With an array of colours to choose from, perfect for matching at home interiors, Tripp Trapp' brings your baby to the dining table and at the heart of the family to learn and develop with you.
An ingenious chair which revolutionised the children's chair category when launched in the 70s, it is a firm family favourite and staple in households worldwide. Designed by Peter Opvsik, Tripp Tripp' boasts intelligent and adaptable design. Enabling freedom of movement with both depth and height thanks to the adjustable seat and footplates, parents are safe in the knowledge their child is sat securely, comfortably and ergonomically correct.
The Tripp Trapp' is made entirely from wood and with the possibility to be used from newborn to adult, not only is it sustainable, but it's also perfect for passing on from generation to generation. For an added touch of personalisation, Tripp Trapp' can also be engraved with your choice of name or initials, making it extra special for little ones.
'
The Perfect Feeding Chair, Stokke' CLIKK'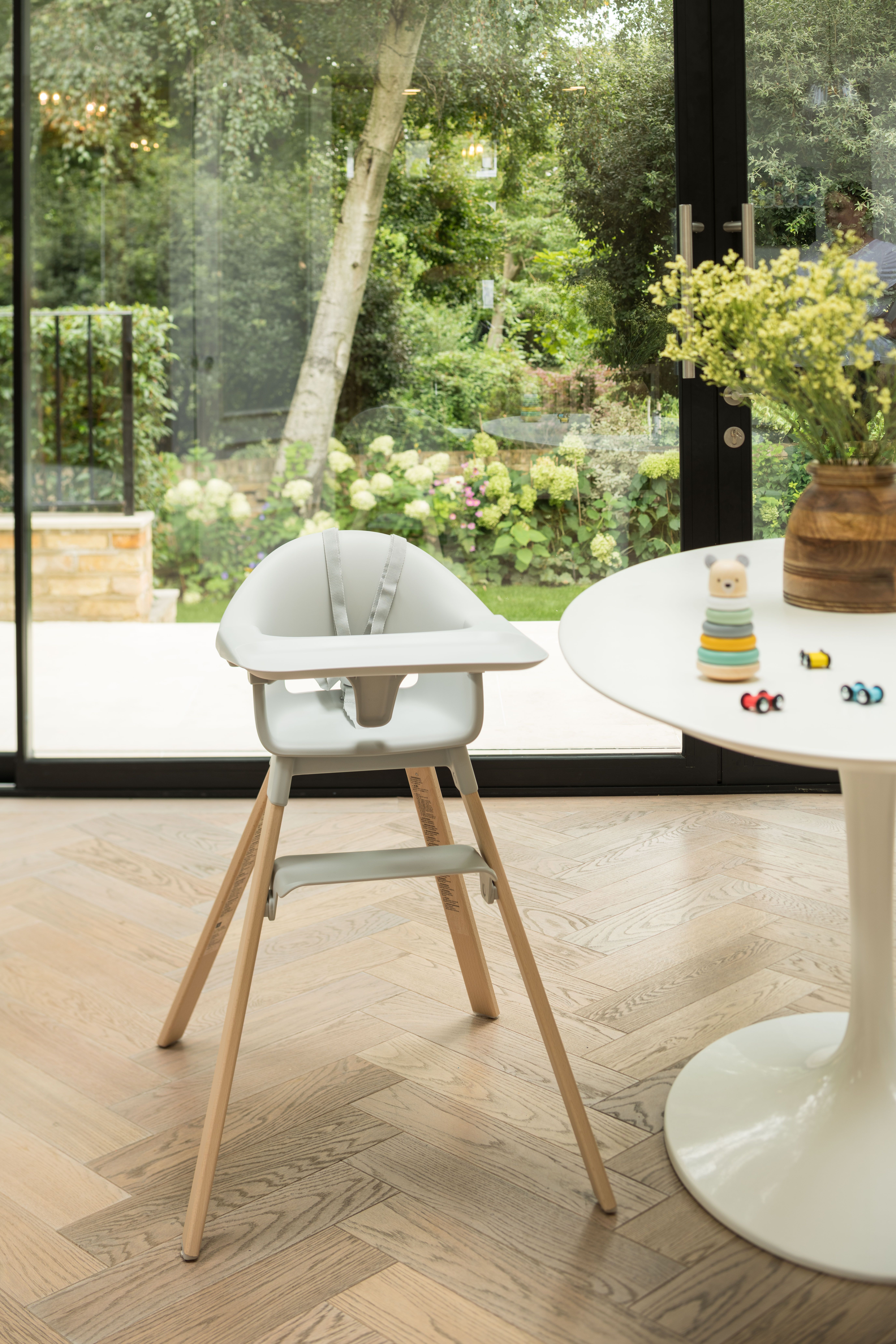 Designed for easy mealtimes, the Stokke' CLIKK' high chair can be assembled in 1 minute, tool-free, meaning you're ready to eat, play, clean and enjoy your time together as a family stress-free. The perfect furniture addition to bring the inside out, no matter how big or small your space, CLIKK' guarantees no one will miss out on the fun of family meal times.
With detachable legs, it can conveniently be packed away as and when needed and with an additional travel bag, transportation is a breeze. Sleek and timeless in design, without any nooks or crannies for crumbs or germs, the tray is detachable and dishwasher safe and the chair can simply be wiped clean.
Available in four colours to suit all tastes, CLIKK' is easily re-positioned and relocated to meet your requirements, whether that be inside or outside, thanks to its lightweight design. With everything you need for effortless mealtimes in the one box ' highchair, harness and tray ' the chair can be enjoyed from 6 months to 3 years with an adjustable footrest to provide comfort at each age.
'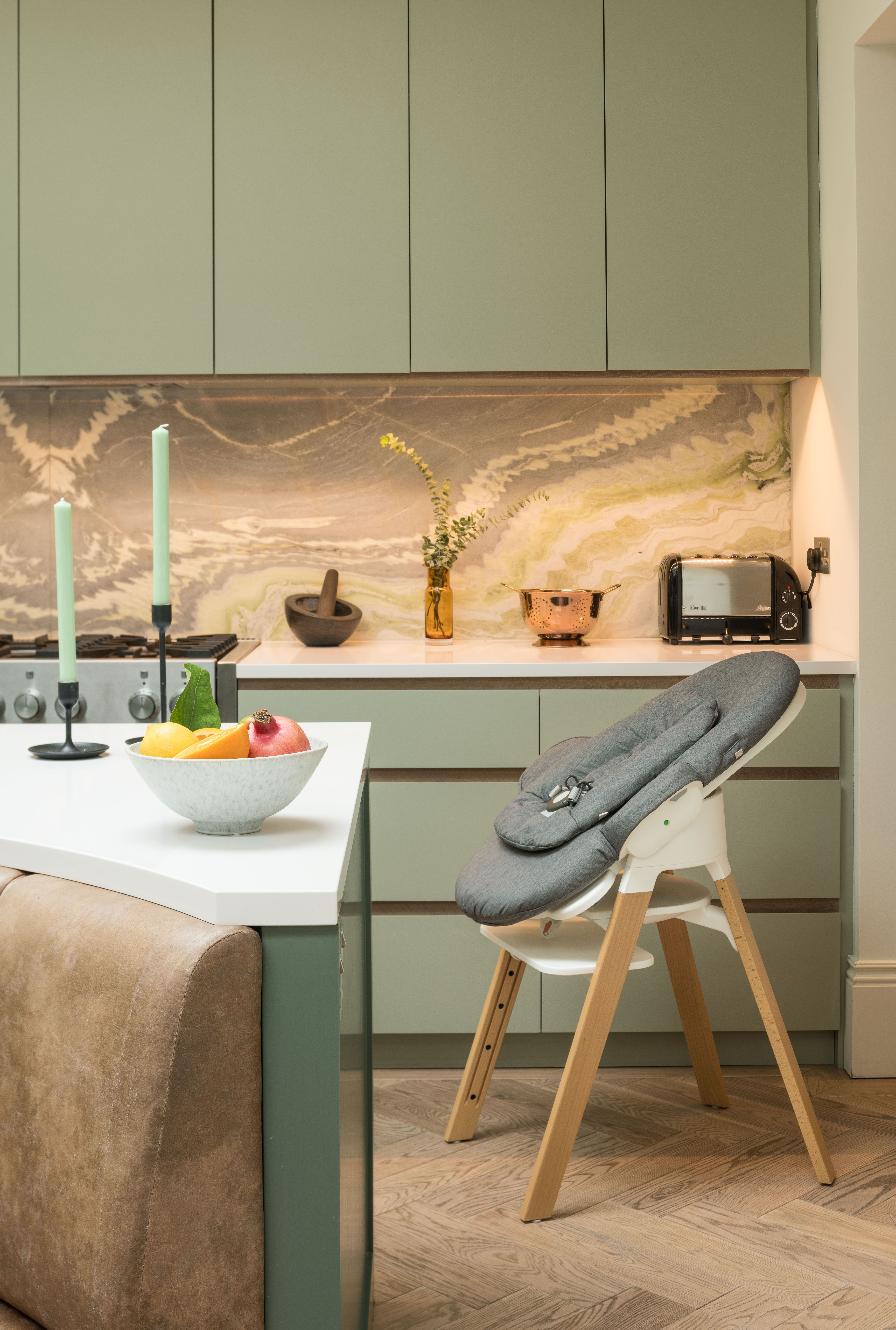 The Complete & Modern Seating System, Stokke' Steps'
The Stokke' Steps 5-in-1 seating system with Bouncer gives comfort and support to the child for all of childhood and beyond with a modern-design seating system. Ensuring your child can comfortably sit at the dining table and enjoy mealtimes with the rest of family, the rounded generous seat and back give optimal ergonomics.
Developed with active, independent toddlers in mind, giving them proper support and comfort thanks to the adjustable features, the easy tool-free adjustable footrest allows your child to climb in and out independently.
With the Stokke' Steps' designed to be used together with the Stokke' Steps' Bouncer bringing your newborn to the table and with the Stokke' Steps' Baby Set to create the highchair, Stokke Steps is the complete childhood seating system. The Stokke' Steps' Bouncer can be used alone on the floor, thanks to the sturdy base which avoids sliding, or easily clipped onto the chair. It folds flat for easy storage and travel and with a unique cradling movement that mimics the feeling of being cradled in mothers arms, the Stokke' Steps' Bouncer has multiple seating positions and enables the child to bounce independently.
---
Tiffany Norris from The Mummy Concierge has shared her top tips to embrace your home d'cor whilst ensuring it is family friendly, especially when it comes to choosing the right highchair for you:
Storage is key ' Storage doesn't have to be ugly or be expensive these days - Think wicker baskets and boxes for toys, or built-in shelves and bookcases as practical and cost effective methods of keeping your home organised and tidy.
Match your materials ' If your home feels natural in design, and by that I mean wicker and wood, then look to baby furniture that echoes that aesthetic. Choose pine, oak or beech furniture rather than plastic and you'll create a natural cohesion between your current furniture and your child's.
Look for multipurpose furniture ' Try to plan ahead when choosing your key baby furniture items. For example, the Stokke' Steps' is a 5-in-1 seating system with Bouncer. It can be used alone on the floor or clicked onto the high chair giving you multiple options for your baby. Investing in a highchair that provides multiple uses is always a win win, as you are not limited to having your baby in one position or one location.
Get creative with colour ' Why not embrace a little colour around the home and frame your children's art for a fun focal wall, or if your home is a hub of neutral d'cor, look for your desired piece of baby furniture to compliment your aesthetic. The Stokke' high chairs are available in a multitude of colours from serene pink and sunflower yellow to cloud grey and clover green; there's a colour and style to suit all homes and all tastes.
Think long-lasting ' This applies to both furniture and highchairs. With little ones running around, it's important to have furniture that is built to last and won't crack, break or tear when you have children climbing all over the place. Most highchairs today come with a transition option.' This means the seat can be used as a comfy cradle, in an upright position for first-time feeding, as a toddler booster for independent eaters and maybe more. The Tripp Trapp' is designed for newborn through to adulthood, so not only does this mean you are not investing in a new high chair after a couple of years but you're saving money in the long run.
Consider the clean-up ' Depending on budget, stain resistant, scratch resistant and wipeable surfaces and materials are important for a family home. Thankfully, due to modern technology we have the luxury of being able to buy wipeable paint (for when our little artists decided to draw a mural on the wall), stain resistant sofas and waterproof fabrics for any accidents that might occur in and around the home. This is equally important when thinking about your highchair. Babies are notoriously messy eaters and that means you need to consider how easy it is to clean up the high chair after a messy meal.'Any highchair that is easy to wipe clean, or even better, has a tray you can pop in the dishwasher, such as the Stokke' CLIKK' is a bonus.
Ease of movement ' Babies and children come with a lot of accessories and toys, so having furniture that is easy to move around is a blessing, especially if you have guests coming over, or need to rejig a room. Some highchairs can be very heavy and as such remain in the same spot in your kitchen year in and year out. Choosing a lightweight highchair such as the Stokke' CLIKK' that can be moved around the home or even packed up neatly and compactly in the back of your car for a trip to Grandmas can be a lifesaver.
Embrace the chaos ' No matter how hard we try to keep on top of the chaos a family home brings, sometimes you need to give in and just enjoy the madness. Don't let toys on the floor, or a pen mark on the wall detract from the loving environment you've created. Walls can be repainted, and toys can be cleared up, so make sure you use your home to create special memories as a family.