01 Feb 2023
Basking Babies heads to The Excel Baby Show next month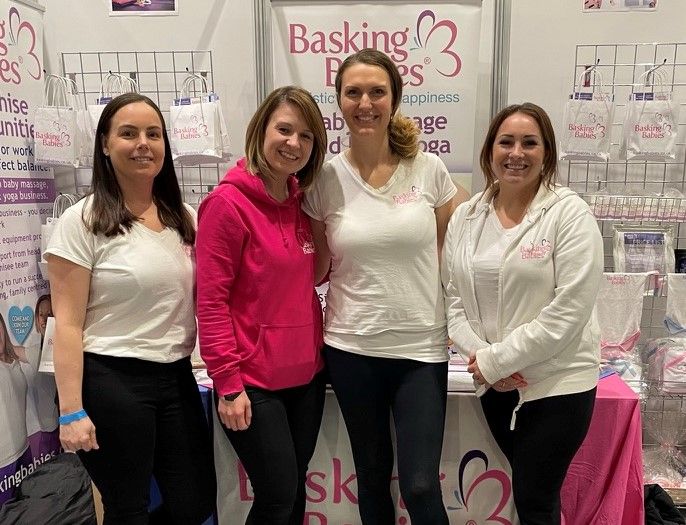 On 4-6 March 2022, national franchise Basking Babies will be joining thousands of families and over 200 brands at The Excel Baby Show in London.
The three-day event will be filled with live talks, baby products, advice, and services from businesses from all corners of the UK. Not to mention lots of treats and goodies for expectant and new parents!
The Basking Babies stand will be manned across the weekend by the team of 15 expert franchisees who will be on hand to share the magic of pregnancy relaxation, baby massage, baby reflexology, and baby yoga with attendees. It will be a fantastic opportunity for families to discover more about what Basking Babies courses entail, while picking up a FREE goody bag packed with discount vouchers and samples.
There will also be members of the Basking Babies Head Office team on hand to discuss franchise opportunities with guests who are interested in joining the business and bringing Basking Babies classes to their local area in 2023. There will even be some special offers available for budding business people who are keen to get involved!
Families interested in attending the show can get an amazing 36% off their tickets with a special Basking Babies offer code, soon to be released on the Basking Babies UK social media platforms.
Founder and Owner of Basking Babies, Carla Davison is looking forward to the show, "We are thrilled to be attending The Excel Baby Show for the third time in 2023! In previous years, we've had the chance to introduce hundreds of new parents to the magic of pregnancy relaxation, baby massage, baby reflexology, and baby yoga, while also meeting new parents who later decided to become part of our amazing team. All among lots of incredible baby businesses, many of whom we've since collaborated with. We cannot wait to visit the show again next month. See you there!"
ENDS
Notes to editors:
Basking Babies is a national franchise business – established in 2012 by Carla Davison – offering pregnancy relaxation, baby massage, baby reflexology and baby yoga classes. The current team of 15 passionate, expert franchisees offer both in-person and live online award-winning classes to support parents from pregnancy to pre-school.
To find out more about Basking Babies classes, visit www.baskingbabies.co.uk.  
Basking Babies can be found on Facebook, Instagram, Twitter, and TikTok under @BaskingBabiesUK as well as on LinkedIn.
For images or further information please contact jen@baskingbabies.co.uk.