09 Feb 2022
Introducing Misty, a Cloud with the Smartest Silver Lining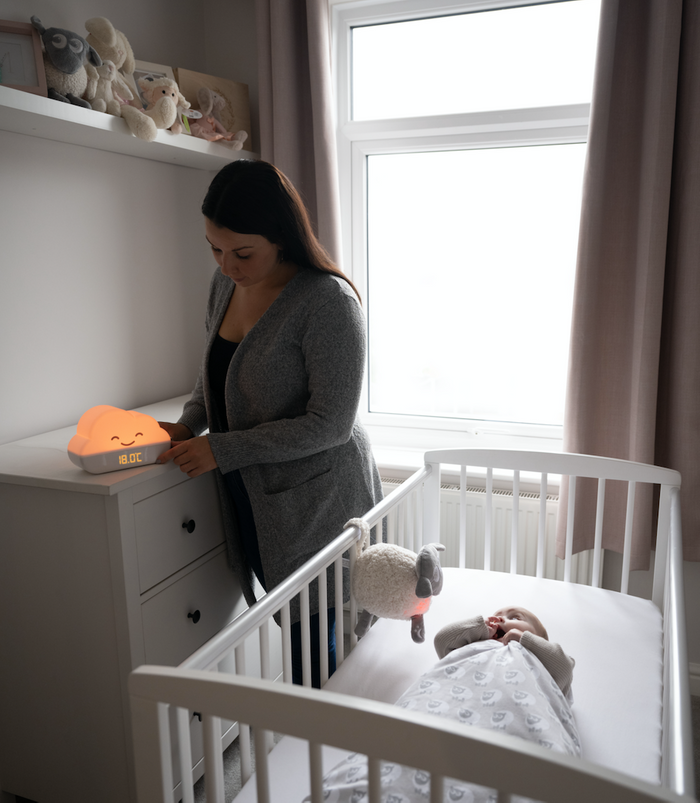 Thanks to the Room Thermometer feature, Misty will ensure the nursery is the perfect setting for safe sleep. A soothing colour coded temperature gage and digital numerical display will show parents when to adjust bedding, tog ratings and clothing. What's more, both the Misty app and Alexa will alert parents when the room gets too hot or cold.
Misty also helps to soothe and settle bubbas with a soft glowing light show. Parents can choose between Soothing Sunset, a gentle fusion of calming reds, yellows and ambers; or Northern Lights which is an enchanting mixture of dream inducing colours to mesmerise little ones into a slumber.
Both light shows can be adjusted on a mobile phone, whether you are in the room, downstairs or even if you are out with a babysitter at home! If this is a little too much in the early days, there is also an option for a simple and consistent warm glow for calming comfort.
Helping to support new parents, the Misty App features a personal assistant to help log all of baby's important information. It will track feeding, so parents can gain insight into regular patterns, as well as nappy changes, and will also log important milestones. What's more, multiple users can be granted access as caregivers on the app, meaning grandma can log nappy changes too!
A gadget with true longevity, Misty's sleep training function means this clever buddy will be useful as little ones grow. Helping children understand a healthy bedtime routine, the colour changing glow indicates when it is time for sleep and gives them the green light (quite literally) when it's time to wake up! With a digital 24 hr clock, parents can set their chosen wake and sleep time via the app (or manually), helping the whole family get those extra ZZZ's. This feature also makes daylight saving time, or trips to a different time zone, a far smoother transition.
Commenting on the arrival of Misty the Smart Cloud, Lynda Harding, mum of six and Founder of Sweet Dreamers said:
"We are so excited to be launching Misty the Smart Cloud; it has been a long time in the making but we wanted to ensure each function was the very best it could be. Offering four products in one, Misty will save money and space in the nursery – and we're pretty confident to guarantee a good night's sleep, so saving parents ZZZ's too! Not to mention, Misty is absolutely adorable and will add a touch of style to the nursery."
From the masterminds behind the much-loved ewan the dream sheep (which has sold over one million worldwide), Sweet Dreamers know a thing or two about helping babies sleep, and Misty is set to answer parent's sleep prayers yet again. Already the recipient of the prestigious ABC Kids Expo Award of Distinction - winning in the Outstanding Tech Savvy Category, Misty, the multifunctional, super cute and super smart product is already off to a dreamy start.
RRP: £59.99
Stockist: https://sweetdreamers.co.uk
https://www.youtube.com/watch?v=fAlbZgF4ydA