01 Sep 2022
Tripp Trapp® Chair In Fjord Blue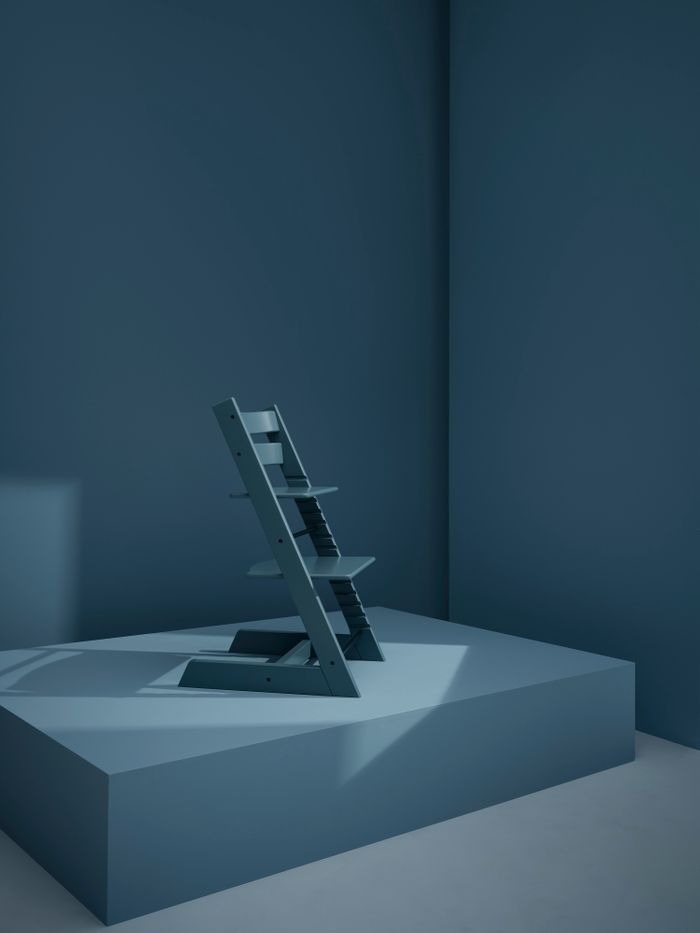 Anyone who´s experienced Norwegian nature knew this was coming. We put a lot of thought into selecting a new color for the Tripp Trapp® Trend Collection and this year, we turned to the stunning Norwegian Fjords, where over 50 years ago, the Tripp Trapp® chair was born.
Pronounced – Fee-ords, fjords are long, narrow waterways that can be found in several countries, but Norway has the most, and we think, the most beautiful. With deep, sparkling water, surrounded by dramatic cliffs and mesmerizing waterfalls, the fjords are not only breathtaking, they´re a natural wonder.
Fjord Blue is fresh, uplifting and infuses any interior with a wash of tranquil vibes and warm color. Versatile, yet bold enough to make a statement, the Tripp Trapp® chair in new Fjord Blue is a brilliant way to bring the beauty of Scandinavian nature home.
Timeless and enduring – like the fjords themselves, Tripp Trapp® Fjord Blue grows with your child, and can be used into adulthood and enjoyed for generations.
Even if you can´t come to Scandinavia - we´ll bring it to you!
It is available with a matching baby set.
Dive into softness with our new Tripp Trapp® Classic Cushion – Into the Deep!
Inspired by aquatic life that lives deep underwater, this playful cushion features fun fish, jolly jellyfish, an array of plant life & more. Eye-catching and adorable, your little one will love it! Using only the highest quality fabrics, Tripp Trapp® cushions are safe by design and gentle to the touch. Best of all, they´re interior friendly making it easier than ever to personalize your Tripp Trapp® chair.
Tripp Trapp® Concept
Over the last four decades, more than 13 million children around the world have
enjoyed their meals and grown up using the iconic Tripp Trapp® chair. Today, as then, the intelligent, adjustable design allows freedom of movement with both a depth- and height adjustable seat- and footplates. This unrivaled adjustability ensures that your child is in a comfortable seating position at any age. Enjoy watching your child learn, interact, and develop in safety and comfort, close to you at the family table. The Tripp Trapp® chair has been tested and trusted over 50 years.
Tripp Trapp® At A Glance
Grows with the child from newborn until adult
Comfort, support & freedom to move at every age
Tested & trusted for outstanding safety & durability
Made in Europe, crafted with quality
The Tripp Trapp®chair comes with a 7-year warranty
Iconic Scandinavian design by Peter Opsvik
The Design Story
When his son Tor was two years old, Peter Opsvik discovered that Tor had outgrown his highchair and could not find one which allowed him to sit comfortably at table height with the rest of the family. From this observation, Opsvik changed the way we look at children's seating by creating a chair that would truly give children of all ages a comfortable, ergonomic seat at the table. The Tripp Trapp® was the first chair bringing the child to the heart of the family, the table, allowing freedom of movement and growing with the child.
Made in Europe. Crafted with quality.
The Tripp Trapp® chair is made primarily of European beech and oak woods, some of the best of which are found in central Europe and sourced responsibly following the principles of sustainability. Long favored by craftsmen for its strength, durability, and flexibility, both beech and oak are natural choices for making long lasting furniture.
Caring for the Environment
We're proud to offer products that reflect your values and ours, like the Tripp Trapp® chair. Made of responsibly sourced wood, grow-with-your-child functionality, together with timeless design, ensures longevity so Tripp Trapp® can last for generations.