21 Mar 2023
The Baby Show launches in Manchester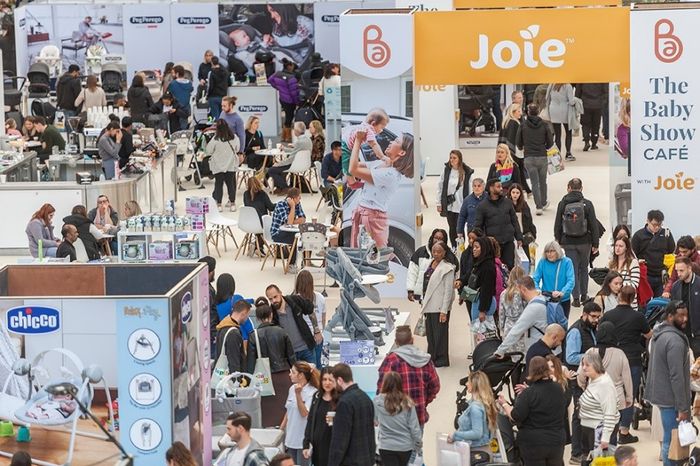 The Baby Show with Lidl GB, the UK's largest and best-loved pregnancy and parenting event, is coming to Manchester Central from Friday 14th to Sunday 16th April.
Returning to the iconic Manchester venue, this will be the first time the show will take place four times a year, proudly adding to its portfolio of hugely popular national events that take place at ExCeL London, NEC Birmingham and Olympia London.
The event will give new and expectant parents across Manchester, Cheshire, Liverpool, Derbyshire, Leeds and Yorkshire, North Wales and Chester the chance to shop for everything they could need for their new arrival, all under one roof.
Filled with amazing bargains and huge discounts from many of the 250 baby brands exhibiting, the show comes at the perfect time as visitors can save time and money, making their baby budget stretch even further. Whether they're buying their first ever buggy, car seat or cot, the show gives visitors the chance to compare, try, buy and save on products, as well as walk away with all the knowledge and expertise they can learn from the show experts.
The Baby Show offers a huge range of products from independent boutiques and online stores to the biggest brands in the industry. Household names include Bugaboo, Joie, OBaby, Tommee Tippee, MAM, Nuna, Micralite by Silver Cross, iCandy, Mamas & Papas, Venicci, Daisy First Aid, Nala's Baby, Stokke®, Snugglebundl, BabyBjörn and Cybex will all be there, as well as a section dedicated to innovative start-up brands called 'New Kids on the Block', supporting emerging businesses.
Mallory Reynolds-Trout, Show Manager at The Baby Show says: "The Baby Show is a real institution; it's been running 21 years now and has a huge fan base in the South and the Midlands. Visiting the show when you have that happy news that you're expecting is an integral part of having a baby and now we can make it even more accessible to visitors from the north who want to try, compare and buy all their baby essentials.
"We want to make the day as easy as possible and that's why we have a Shop 'n' Drop and Collect-by-Car service, as well as complimentary food to feed your little one, bottle warmers on hand and a private feeding area, as well as award-winning wipes and nappies courtesy of Lidl GB, if you need to change your little one. We can't wait to help more expectant parents as they start one of the most exciting journeys in life."
The show will have a long list of expert speakers and celebrities taking to the Live Talks Stage, sharing their advice on all things pregnancy, birth, breastfeeding, weaning and baby first aid – all included in the ticket price.
These include Lesley Gilchrist from My Expert Midwife, Jenni Dunman - Daisy First Aid, The Breastfeeding Mentor, Danielle Facey, infant sleep consultant, Nicole Ratcliffe from Baby2Sleep, child development expert, Dr Robert Titzer, parenting expert, Rachel FitzD and Midwife Zoe – to name a few.
To make lives easier, there will be several family-friendly facilities available to use, including The Baby Show Café with Joie, The Baby Feeding Café with For Aisha, Shop 'n' Drop and Collect-by-Car service. Headline sponsor Lidl GB will be showcasing their Lupilu nappy and wipes, and a selection of baby clothing. Visitors can use their complimentary award-winning wipes and award-winning within their fully equipped Lidl Lupilu Baby Changing Area too.
To celebrate the launch of Manchester Central, they have a Spring Saver offer – two adult standard tickets and a Baby Show Goody Bag, in association with Project Baby, worth over £110 for only £16! You can also buy a Tommee Tippee package, where you can purchase all your new-born essentials at a hugely discounted rate including two standard adult tickets. For more information visit thebabyshow.co.uk/manchester.
*ENDS*
---
If you would like any information about The Baby Show, our expert speakers, or wish to attend The Baby Show, please contact kat.adams@4media-group.com and fiona.jull@4media-group.com / 07852 185967
For high res imagery visit https://www.dropbox.com/sh/utr7nhrfa6ulzma/AABVd7zc2UvloWf1e-GrmLx5a?dl=0
NOTES
Opening Times:
Friday 14th April – 10am – 4.30pm
Saturday 15th April – 10am – 4.30pm
Sunday 16th April – 10am – 4.30pm
*Excludes £2.50 transaction fee.
About The Baby Show
The Baby Show is the UK's leading pregnancy, baby, and parenting event, attracting over 70,000 people each year. Organised by Clarion Events, it is home to unrivalled shopping, expert advice, exclusive offers from top parenting brands, and family-friendly fun.
Forthcoming events:
Sponsors & Partners:
Sponsors: Lidl GB – Headline Sponsor
Trade Partner: Nursery Today
Partners: Bounty, Daisy First Aid, Emma's Diary, Joie, Project Baby, The Mum Club, Your Baby Club
Product Sponsors: For Aisha, OBaby, Stokke, Tommee Tippee
About Clarion Events
Clarion Events operates over 100 events in 20 countries around the globe. Clarion has an international portfolio of leading brands covering energy, security and defence, electronics, technology, fashion, retail, gaming and consumer. Clarion's vision is to be a leading industry partner and enabler, connecting people, communities and opportunities in every sector it serves. Clarion's customer centric focus delivers highly targeted marketing campaigns, connections, networking, learning, and information solutions live and online, that serve as platforms to build businesses, enhance customer relationships, and accelerate product awareness. Find out more at www.clarionevents.com.