21 Feb 2023
A Special Pancake Day Recipe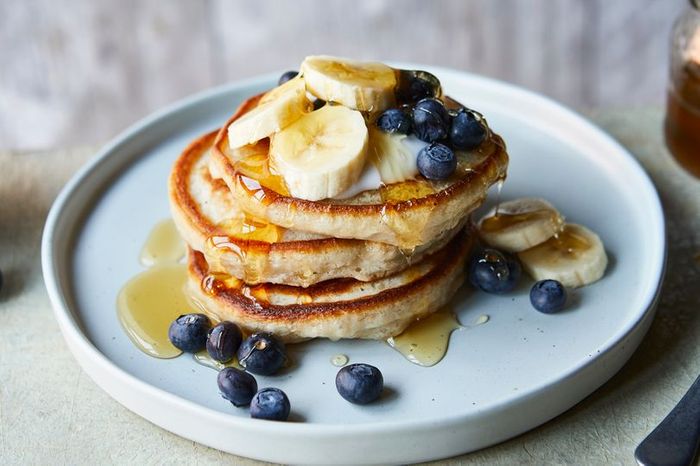 By Adam Shaw of At Dad's Table
Today's good mood is sponsored by pancakes!
There's nothing like a delicious stack of pancakes in the morning, topped with golden syrup and one of your favourite five-a-day fruits. But the even better news is that pancakes are safe to eat when pregnant, as long as they are cooked properly and made with your dietary requirements in mind. Founder of At the Dads Table, Adam Shaw, will present Feel Good Food Hacks and How to Grow Your Family at The Baby Show ExCeL London and we are excited to share his special pancake day recipe with you this pancake day!
Banana and Choc Chip Fluffy Pancakes
Ingredients

390ml milk (you may substitute for alternative milk i.e Oat, Almond etc)

3 eggs

195g plain flour (Gluten-free options are available)

195g whole grain flour (Gluten-free options are available)

3 teaspoons of baking powder

3 mashed bananas

80g chocolate chips

Butter, for frying (Can be subsidised for vegetable or olive oil)
Method
In a bowl whisk together the milk, eggs and bananas. Sieve the flour and baking powder into a large bowl then pour the wet ingredients in. Mix well then add the chocolate chips. Mix again. Heat a knob of butter in a pan and empty a ladleful of the batter into the pan. Cook on medium heat until bubbles appear on the surface, flip and cook for 2 mins more.
Pancake Tips
Your basic fluffy pancake ratio is 1 egg, 130ml milk, 130g flour and 1 teaspoon of baking powder. Scale up and down as you prefer.
Using half plain and half wholegrain flour increases the nutrient content a little. 100% wholegrain is too dense in my opinion
Always wipe away excess butter in the pan before cooking new pancakes. If the butter burns it will affect the taste and appearance of the pancakes
You can hear more from Adam Shaw on this year, live talks stage at The Baby Show ExCeL. You can learn more about what he will be speaking about here.
---
Book Baby Show tickets online to save 35% compared to buying on the door!
---
Next Live Stage Talks by Adam Shaw
We're sorry, but we couldn't find any results that match your search criteria. Please try again with different keywords or filters.
---