11 May 2023
The Conscious Beauty Group Launches Mini Humans Baby + Kids Personal Care Brand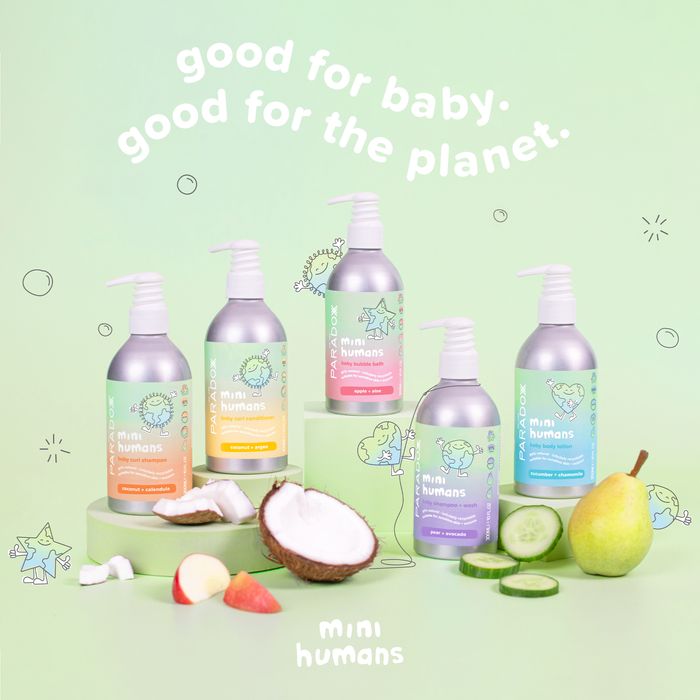 Mini Humans - the brand new baby care brand that is 'good for baby and good for the planet' has launched into Target stores across the US and online, expanding the company's portfolio and cementing its position as a market leader in sustainable personal care.
The launch sees five products launch into 170 Target stores nationwide - 2 in 1 Shampoo + Wash, Bubble Bath, Body Lotion, Curl Shampoo and Curl Conditioner.
Mini Humans is a personal care collection for the generation of the future that reduces plastic pollution and helps educate children about protecting the planet in a fun and interactive way with engaging characters that feature on packaging. The brand was conceptualised by Founder Yolanda Cooper when she sought out gentle baby care products for her newborn Yazmin in 2021, and struggled to find anything that suited her clean and eco-conscious principles alike.
"I realised no brand was prioritising baby's skin and the future of our planet in equal measure. If protecting the planet for the future of our children isn't a driver for making sustainable choices, what will be? I decided to give other mums the opportunity I couldn't see - to choose clean, safe formulas that will also support a safer environment, free of toxic plastic waste. And so 'Mini Humans' was born."
The collection is paediatrician and dermatologist approved, suitable for eczema-prone and sensitive skin; and has qualified for both Target Clean and Target Zero due to its gentle, clean formulations and efforts to reduce packaging waste.
The Conscious Beauty Group recently closed a seed funding round of £1.25 million to bring their total funds raised to £4.75 million in preparation for the launch of Mini Humans into the the USA, as well as the launch of a third brand in the second quarter of 2023 - SUPERNOVA HAIR TOOLS.
The recent investment was supported by Lotus Herbals - the Indian Beauty Conglomerate that invests within the clean and natural beauty and wellness space and Aircore Ventures which invests in emerging sustainably focused businesses with a global vision.
Founder Yolanda Cooper believes that the growing demand for purpose driven brands with sustainable beauty products has played a part in the business's success to date.
'We are delighted to have Lotus Herbals and Air Core onboard with the Conscious Beauty Group. As consumer demand for sustainable beauty rises, so does the presence of greenwashing. Consumers are growing wise to this and are challenging brands to be more transparent in their efforts, which puts the Conscious Beauty Group in a strong position as a global leader in plastic free, sustainable beauty. We are committed to growing our business through innovation while maintaining and improving our sustainability efforts.'