21 Feb 2022
INSTA FAME for Dr Brown's Options+ Anti Colic Bottles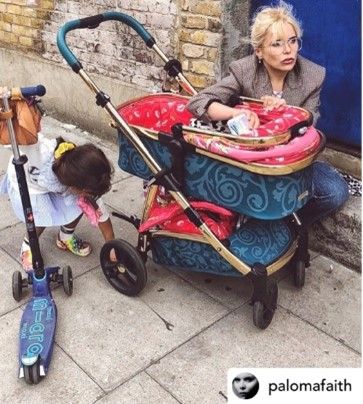 In recent years, Dr Brown's has grown in presence, picking up quite the following amongst the UK's public figures
Singer, songwriter and actress, Paloma Faith , in a refreshingly honest post, told her 656K followers that she needed to make an emergency feeding stop in a doorway because her baby needed feeding. And Dr Brown's Options+ Anti Colic bottles were close to hand to save the day.
Whilst champagne buckets are usually used for chilling fizz, ex-reality star and businesswoman, Amy Childs, shared an alternative use for hers. So, if you don't have a bottle warmer to hand, try her parenting hack and use a bottle chiller'as a warmer instead!
Well-known for sharing her parenting journey in all its glory, Charlotte Dawson expressed that she 'swears by' Dr Brown's bottles.
She told her 1.3million follows: 'I was recommended Dr Brown's bottles when Noah was born by my friends that are mums, as I was told that they best anti-colic bottles! We've used them since he was born so that Matthew can help feed too.'
Other celebrity and influencer fans of Dr Brown's include, Rochelle Humes, model Lauryn Goodman, plus Gaz Beadle and Emma Jane McVey.
But why Dr Browns?
Dr Browns Options+ anti-colic bottles (RRP: from '7.69) have a unique vent system that allows air in the bottle to bypass movement through the milk so that air is removed from the feed.
This enhanced design is clinically proven to reduce windy colic due to its unique 100% vacuum- free vent system. The bottles can be used with or without the removable internal vent system, transforming it into a teat-vented bottle for more convenience. The breast-like teat shape is correctly contoured for a proper latch and a more natural bottle-feeding experience - perfect for switching from breast to bottle and back again! Each breast-shaped teat is specially engineered to offer the same consistent natural flow and has a 93% acceptance rate, perfect for switching from breast to bottle and back again.
Dr Brown's products are available from Baby-Central on stand C62 at The Baby Show.
-ENDS-
About Dr Browns
Dr Brown's continues to innovate and develop products that focus on great functionality for parents and good health for baby. This has made them a proven favourite with mums and dads for over 20-years.
Originally designed by a doctor in the USA, now 92% of UK Health Professionals recommend Dr Brown's Options+' bottles for the relief of colicky symptoms**.' The unique internal vent system channels air away from baby's feed as air can cause these colicky symptoms. No air also means a consistent flow rate that supports breastfeeding babies!
The breast-like teat shape has been designed to be correctly contoured for a proper latch and a more natural bottle-feeding experience. Each teat is specially engineered to offer the same consistent natural flow. What's more, in a comprehensive study of 884 babies, 93% of babies accepted the breast shaped teat. https://drbrowns.co.uk/