13 Jul 2020
Royal-approved parenting tips from Norland Nanny Louenna Hood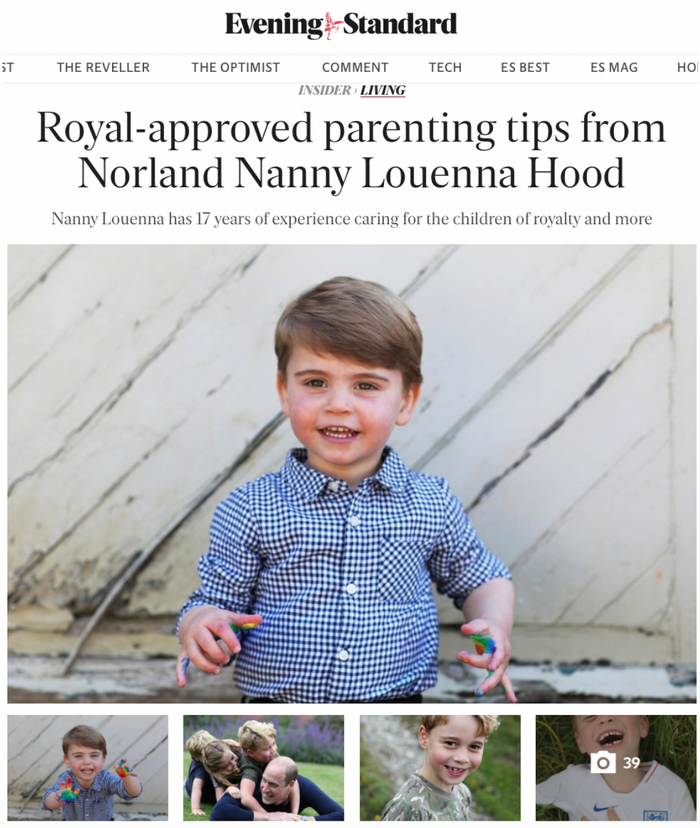 Since completing her Norland education, Hood has had a thriving 17-year long career supporting families all over the world (including several royal families) and has even launched a popular Instagram account full of parenting advice.
Although hiring a Norland Nanny might not be in the cards for you, Hood recently launched an affordable app she described as a "children encyclopaedia" to help solve any and all parenting qualms you may have.
When it comes to their children, the Royal Family, celebrities and other high profile people often turn to expert childcarers for help.
Many of them, including the Duchess of Cambridge, put their trust in highly trained Norland Nannies to help them with everything from cooking meals to keeping an eye on the children.
Speaking to Evening Standard Insider, Norland Nanny and maternity nurse Louenna Hood explains that qualification courses at the Norland College are very hands on. When Hood was studying, she alternated between placements and more theoretical work from week to week and said the course "shows a commitment."
Norland Nannies undergo a three year undergraduate programme and an additional fourth year to qualify for their Norland diploma. Over that time, they are taught everything from security and anti-terrorism precautions to help protect children of high profile families to sewing and early childhood development.
Speaking of the college, Hood says, "Their motto is 'Love Never Faileth' and I think that it just shows that this is your passion, this is what you want to do."
Nannies who've trained at Norland College are also a go-to for members of the Royal Family. The Duke and Duchess of Cambridge, for example, have hired Norland Nanny Maria Borrallo. Borallo has at times been photographed with Prince George, Princess Charlotte and Prince Louis wearing her brown Norland uniform to events, including Pippa Middleton's wedding.
For help with everything from parenting during lockdown to getting your babies to sleep, here are a few royal-approved parenting tips from Louenna.
How to get your baby to sleep
Louenna revealed that 'How do I get my baby to sleep?' is "the top question" she gets asked by parents. The veteran childcarer explained that it was crucial for parents to ensure children had a balanced amount of awake and asleep time, saying, "Their night reflects their day, so for me, a full routine during the day is really important."
"If they've slept for too long during the day, that could be why they're waking at night," she said. Her app also includes printable sleep routines for parents, to help them ensure both they and their children get a good night's sleep.
Surprisingly, food can also play a factor in your child's sleep cycle. "I do think that what they eat is so important and if they eat well from a young age, they'll generally sleep a lot better."
How to keep kids engaged with schoolwork over lockdown
With schools set to fully reopen in September, many parents will have found it frustrating to keep young children engaged with schoolwork while learning at home. Louenna explained that it's crucial to find a fun way into education for children, whether that be through framing problems in creative ways or appealing to their interests.
"If you put a child up to a table and give them a load of textbooks, it's just not going to capture their imagination. So for me, it's making the learning fun," she said.
Examples include solving maths problems through baking or using your child's favourite toys to help illustrate questions. Louenna continued, "You always try to hone in on the child's interest because every child has got a different interest. Whether it's dinosaurs or tractors, if you use that within the lesson I think they're going to learn so much more and it'll be a lot easier for you."
How to manage your child's screentime
As technology has started to play a leading role in children's lives, Louenna advised against turning it into a "battle." She said, "You can't shield them from it. It's the world that we live in and I also think that with anything, if you say to a child they can't have it, they will want it no matter what."
Instead, Louenna advised giving children the option of alternate activities. She said, "I give them opportunities of things that they would rather do, so I would always do some activities outside where they'd rather come and do that. Children want to be adventurous."
Another way to integrate screentime into children's lives healthily is to "have the whole family watching the television", rather than giving kids their own individual devices. "I think looking down at a tiny screen probably isn't great."
Sometimes, however, she said it's alright to let children indulge a bit. She explained, "If you've had a really busy day and I'm cooking the tea for example, and the children are in front of the television for a little while - to me that's fine. I just think don't make anything a battle."
Looking after your mental health is important too
Louenna revealed that many new parents had reached out to her over lockdown, with many struggling with feelings of loneliness. For Louenna, ensuring that mums and dads are looking after their mental wellbeing is one of the keys to a healthy family dynamic.
"If you have a happy mum and dad - the family dynamic is so important - you have a happy and thriving child," she explained.
Louenna's new app has an entire section dedicated to parental mental health, including postnatal care for mothers and ways that partners can support one another. She said, "I think it's really important to talk about it and acknowledge it. It's not always safe sailing and it's okay to have those feelings."
Louenna added that new parents could find everything "quite bewildering", especially those who welcomed a new addition over the past year. She said, "I've had a lot of messages from new mums over the past couple of months because of lockdown. They've got these gorgeous new babies, they can't show them to anybody. They're lonely [and tired]."
Spend time in the great outdoors - but don't make everything a major event
Louenna advised parents to try and get their kids out of the house daily, as it's "so good for their mental wellbeing." She said, "Every child should go outside and spend as much time in nature and outside as possible."
Rather than heading out for an elaborately planned occasion ("children don't want to go to the theme park every day"), she advised planning smaller outings like family walks. "I think they learn so much and I think it really helps their behaviour."
"Don't underestimate [walks] because they learn so much," she said, "Talk to them, point things out to them. Things like that. Go for a picnic rather than taking them to a restaurant all the time."
There are resources out there to help you
Louenna revealed that as a maternity nurse, parents are able to ask her everything from how to bathe their baby to how to keep them calm. With thousands of books, podcasts, apps and YouTube videos available, parents aren't expected to know everything automatically - which is part of the reason why she set up her app.
She said, "I thought, 'Wouldn't it be amazing to have one place where I could share with everybody and almost have a childcare encyclopaedia of all the questions a parent could ever want to know and trust it as well?'"
Her app, aptly named Nanny Louenna, is full of printable sleep routines, family recipes and instructional videos to bring the Norland Nanny experience to your home. Priced at £4.99 a month and £24.99 a year, her app is available on the Google Play and Apple Stores.