09 Aug 2020
Top tips to get your fussy child eating more fruit and vegetables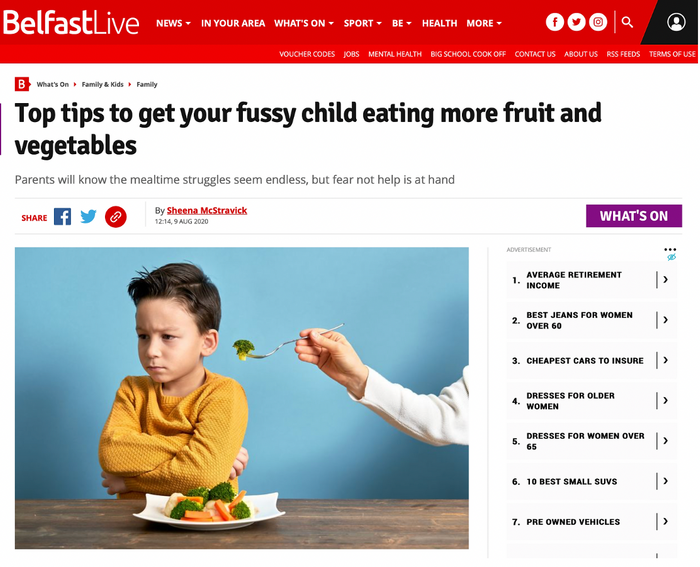 ---
Parents will know the mealtime struggles seem endless, but fear not help is at hand
---
Many parents know all too well the struggle at mealtimes if you have a fussy eater at the table.
The endless moans and groans and the constant overwhelming feeling of so much uneaten food going to waste. But fear not help is at hand.
Norland Nanny and Maternity Nurse Louenna Hood who has worked with some high profile families has given her top tips on how to get a fussy eater back on track and eating more fruit and vegetables.
Here are her top tips:
A good relationship with food begins during weaning. Wean your baby using home-cooked food, and let them enjoy new tastes and textures, during the six to twelve month taste window when babies taste buds are more accepting of new flavours.
Eat together – this is so important! If you sit there watching your child eat with nothing to do yourself, it creates massive pressure on them and increases your anxiety. If they see the adults around them eating the same foods it will encourage them to try different things.
Get your child to help in the kitchen. They love to eat fresh food that they have prepared.
Offer small manageable portions so your child isn't put off or overwhelmed.
Don't let meal times become a battle. If they feel you getting frustrated, it will fuel them to create more of a fuss. Keep your voice calm and controlled and tell them to try and eat what they can.
Set some simple rules. My two most important rules would be that children always have to try everything, even if it's just one bite. Then after tasting it, if they don't like it we don't make a fuss.
If your children absolutely refuse to eat vegetables, try blending steamed vegetables and adding them to sauces. Recipe ideas include macaroni cheese with hidden cauliflower, butternut squash and carrots / tomato pasta sauce filled with hidden vegetables / homemade burgers with grated apple, carrot, courgette, red pepper and onion. Smoothies and ice lollies are brilliant for getting children to eat fruit and vegetables.
Louenna has just launched a new app created for parents across the globe to help them with all their parenting queries and concerns.