Cubble Baby Hair Brush and Comb Set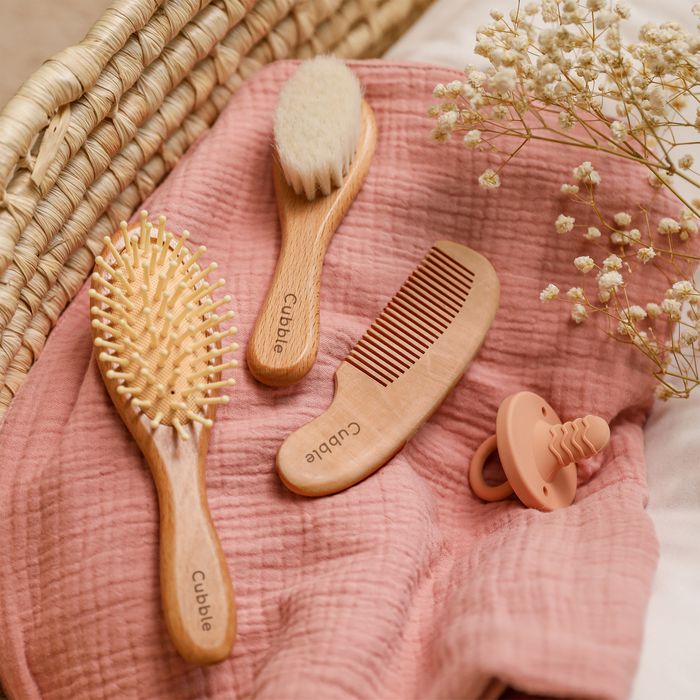 Cubble Baby Hair Brush and Comb are thoughtfully made from 100% natural soft goat hair bristles and beech wood with no harmful glues.
Perfectly safe for newborns, toddlers and kids! The premium grade soft goat hair bristles help in evenly distributing hair oil for a healthier and cleaner scalp. Soft bristles prevent static and are very gentle on baby's soft skin.
Brushing your babies' hair has major benefits to their wellbeing and with our eco-friendly 100% natural brush you can keep their scalp stimulated while also assisting to prevent cradle cap, generate blood flow and removing dried skin while keeping them relaxed...even helping them drift off to sleep.
Product Features:
PVC, BPA & Phthalates free.
100% natural. Made from beech wood and goat's wool.
Easy to hold and grip.
Soft woollen bristles guarantee no itching or scratching.
Help prevent cradle cap and increase blood flow.
Assist in sleep time. Provides relaxing and soothing sensation for your child.
Sustainably made and eco friendly materials used.
Suitable for wet and dry hair.
Use directly after a warm bath for the best results.
Product includes 1 x Natural Goat Hair Bristles Brush, 1 x Natural Wood Bristles Massage Baby Brush, 1 x Natural Wooden Comb and 1 x Storage Bag.
Care instructions:
Woollen bristles can be washed with shampoo and conditioner. Please be careful not to get the wooden handle wet to avoid cracking or damage. Lay flat to dry.
Do NOT use any bleach based cleaners.
Natural wood products may have slights odour which will fade and vary in colour.
Categories
Sustainable
New
Healthcare and Wellbeing
Skincare
3-6 months
6-12 months
Olympia