Silicone Feeding Set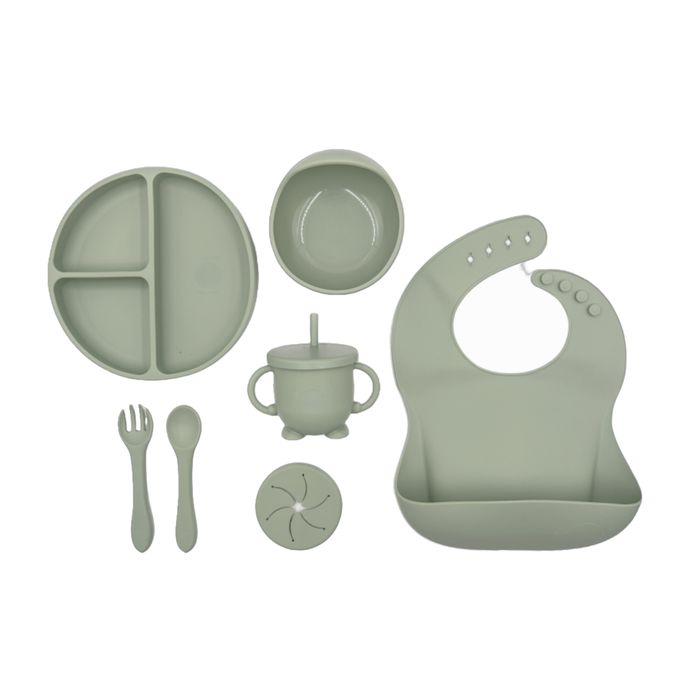 Made from FDA approved food grade silicone, our 8-piece feeding set includes:
1 x Bib
1 x Suction Plate
1 x Suction Bowl
1 x Fork
1 x Spoon
1 x Cup
1 x Straw Lid
1 x Snack Lid
Suitable from 6 months
Our silicone bibs are made of soft, flexible silicone that is waterproof and easy to clean. It features rounded built-in neck fasteners for a snug and comfortable fit and a deep front pocket, ideal for catching food and spills.
Our silicone bowl and plate features a suction base that sticks securely to the feeding surface, preventing spills and reducing mess. The bowls suction feature and easy scoop design makes it easy for young children to scoop food from the bowl without it sliding or tipping over, and the plates curved edges also allows for easy scooping and is proven to prevent spillages. The plate also features three compartments, reminding adults to serve a fruit or veggie, protein and carbohydrates.
Our silicone spoon and fork are soft and flexible designed to be gentle on little one's gums and mouth.
Our silicone 2-in-1 snack and drink cup can be used as a open cup or the the choice of two lids can transform it into a sippy cup or a snack cup. The soft silicone material of the snack lid makes it safe for little ones to reach inside and the sippy cup is a great alternative to traditional glass or plastic bottles
Categories
Food and Feeding
Gifts
Olympia