Tommee Tippee All Seasons Sleepbag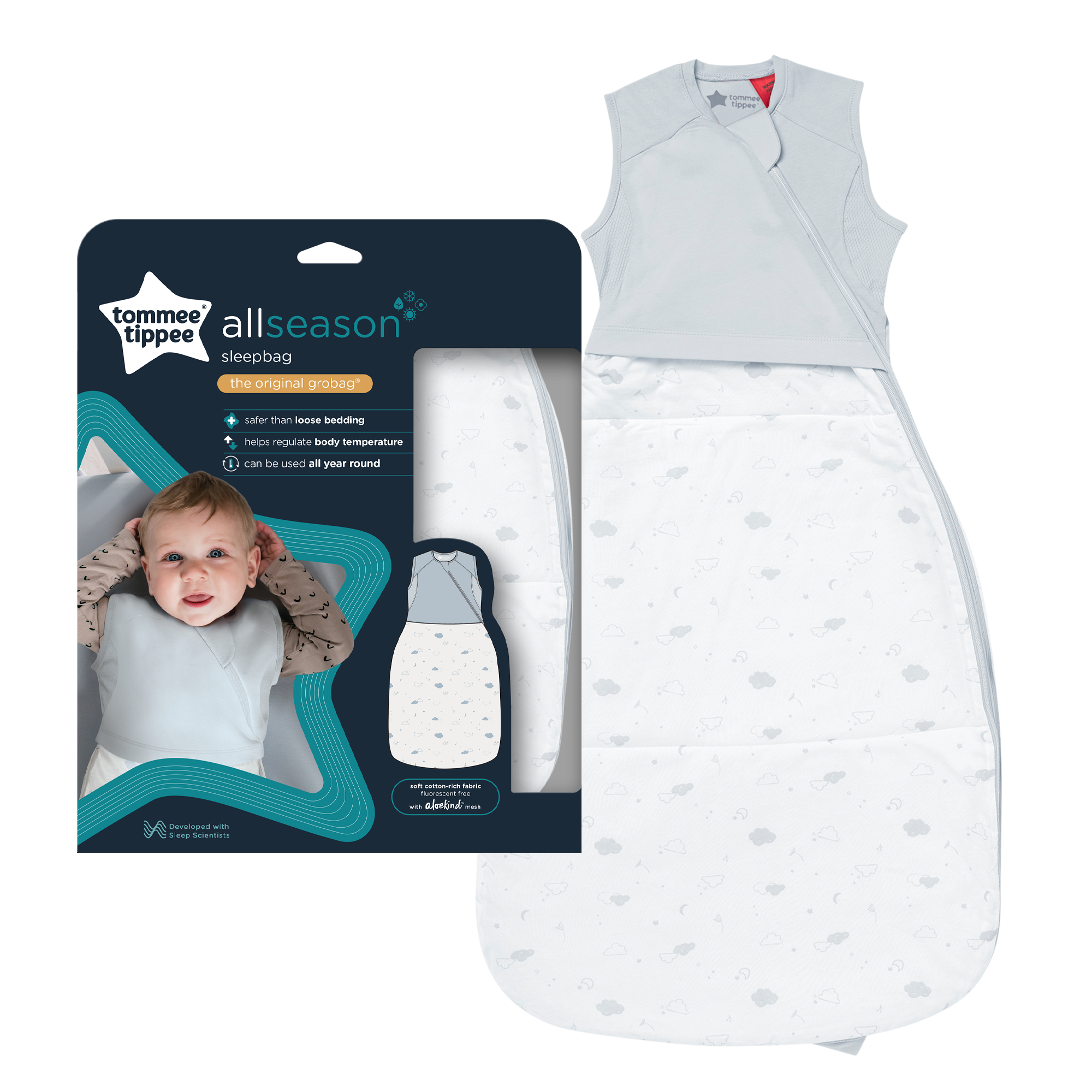 Sleep, temperature, and comfort are closely intertwined, and behaviours geared towards creating a comfortable sleep environment are present in all mammals ' from the little mouse curling up in its burrow to the person buying bedding for their home. If we can keep baby at a nice and comfy temperature throughout the night, we can avoid any unnecessary wake ups due to them being too hot or too cold. Providing your child with a comfortable sleep environment is one of the best things you can do, to help your baby sleep better and for longer, night after night.
Fluctuations in room temperature often require parents to adjust baby's warmth levels during the night. However, changing baby's wearing layers whilst they are sleeping can be disruptive and safer sleep guidelines warn against adding loose blankets on top of a baby sleeping bag as it introduces avoidable risks.
Therefore, we teamed up with sleep scientists and a qualified paediatrician at Northumbria University, to develop a dual-tog All-Season Grobag'. Suitable for use in temperatures ranging from 14-27+'C, featuring removable insulation it can be easily adjusted from a 2.5 tog to a 1.0 tog sleep bag. If parents need to adjust baby's temperature while they are sleeping, they can safely add or remove warmth using the outer zip 'n' pop layers with minimal disturbance to baby. With breathable mesh, positioned in high-heat areas, it enhances baby's ability to efficiently release excess heat, which supports their natural temperature regulation and ultimately helps to keep them comfortable for a good night's sleep.
Made from soft, fluorescent-free 100% cotton-rich jersey fabric with Aloekind' breathable mesh panels which are infused with naturally soothing Aloe Vera.
Slim fitting through the chest to enable full freedom of movement without restriction or excess bulk with a roomy, hip-healthy bottom.
*from an independent study in April 2021 by MumsViews of 297 UK Mums, who currently use a Grobag