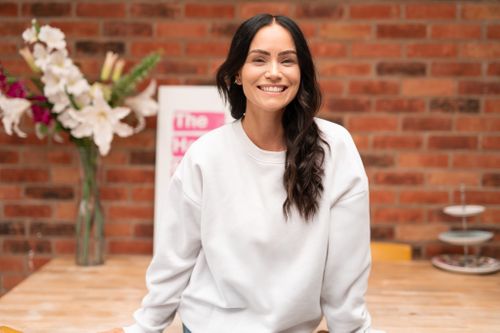 Holly Matthews
Former TV Actress, Singer, Self Development Coach & Founder of The Happy Me Project
Former TV actress (Waterloo Road, Casualty & Byker Grove) and singer (Sony Music) a widowed Mum of 2, Self Development Coach & founderof The Happy Me Project. The Happy Me project is an online and inperson, straight talking self development membership, podcast and award winning, best selling book (Bloomsbury Publishing).
Holly's Ted Talk has been watched by half a million people and she has appeared on Lorraine, BBC, ITV, Talk Radio, Channel 5 News and featured in The Daily Mail, Mirror, The Sun, Closer, Hello, PsychologiesMagazine, Spirit & Destiny and Prima Magazine.
The Happy Me Project boasts two sell out workshop tours across theUK and more recently two sell out RESTIVAL events (a positivemindset festival event with guest speakers, activities and the punchy Happy Me Vibe running throughout). The Happy Me Project has a focuson simplifying self development and takes the 'fancy' out of positive thinking.
Holly is a popular guest expert on podcasts, radio and TV, with her being the 'go to' in self development on BBC radio, where producers call her the 'motivator in chief'.
Holly is neurodivergent and has diagnosed ADHD which informs muchof her work. She is nominated for a Diversity Award for her work and the accessibility she aims to create for people across all brain types.
Holly has amassed over 50,000 followers across her social mediaplatforms and her award winning YouTube Channel 'Happy Me TV' alsooffers regular advice on navigating life and all it's challenges. Hollyused this space to vlog about the death of her husband to brain cancer, which generated huge press interest in her story and allowed her to turn her pain into something positive.
Holly is a qualified Life Coach, NLP practitioner, hypnotherapist and award winning author, who has coached thousands of people across the world (across all walks of life, from Mums on the school run to Brit-winning pop stars).

Her debut book The Happy Me Project- A no nonsense guide to selfdevelopment won Health and Wellbeing Magazines best wellbeing book of 2022 and hit number 1 on Amazon the day it released. Holly's relatable and raw approach to self development has herteaching people how to feel 'more happy and less crappy' in a way thatreaches those that never thought 'self development' would be for them.